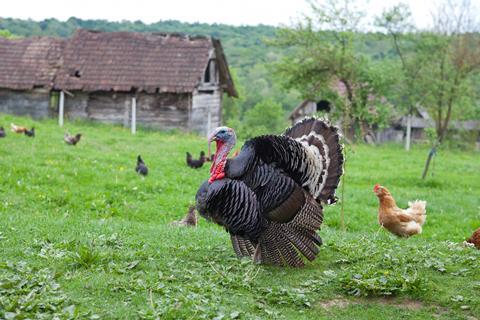 Turkey supplier Kelly Turkeys is set to move into charcuterie, in a bid to offer consumers a wider range of occasions to eat the festive fowl.

The company has invested in facilities to produce turkey charcuterie that aims to bring its product to a higher-value market, said MD Paul Kelly.

"British charcuterie is in growth and it's a ­category where our premium KellyBronze brand fits well," said Kelly.
The brand is working with charcuterie specialist Tempus Foods to create the range, which is set to feature prosciutto, sous vide breast and salami to launch this autumn. The meat will hang for between two weeks to three months depending on the cut, and cured with a range of spices from cumin to juniper.
Kelly claimed his venture was the first in the UK to use turkey for charcuterie, using breeding stock birds processed in August, whose meat would usually be considered tough.
"The hanging and curing process breaks down that toughness and makes it much more tender," he added. "In taste trials, people have been really surprised it's turkey, they think it's venison or something."