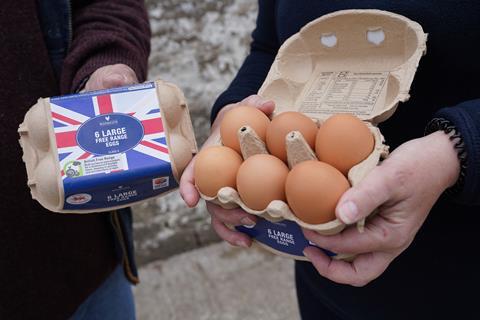 Lidl has announced a major investment in its egg supply chain and a package of additional financial incentives to encourage more farmers into the sector.
The discounter will pay £40m more to its existing egg producers than it did last year with a premium on top of market rates, supported by long-term contracts as part of "a guaranteed pay back deal" from the retailer.
Further cash was also available to producers outside its supply chain in a bid to persuade them to expand into egg production or return to the sector, said Lidl, which also urged rival retailers to make similar commitments.
The new contracts would give farmers "the security and confidence needed to invest in and expand their existing businesses, helping to provide greater returns in the long term", it added.
Last year, supermarkets experienced major egg shortages as the sector contracted due to the impact of increased production costs on the supply chain and [to a lesser extent] the influence of avian flu.
Many producers were forced to shut hen houses or significantly rein in production due to financial pressures, but despite warnings as early as last spring for improved returns, supermarkets were accused of introducing support packages far too late, forcing some to have to stock imported product on shelves.
"The easy option would certainly have been for us to source elsewhere, but we are firmly committed to the long-standing relationships we have with our British suppliers, and our commitment to sourcing 100% fresh shell British eggs," said Martin Kottbauer, chief trading officer at Lidl GB.
He explained the retailer felt it had to "ensure the long-term sustainability of the British egg sector".
"This approach, which is supported by long-term contracts, is giving our suppliers much-needed confidence to invest in their businesses and further secure their futures," he said. "We would urge other retailers to do the same."
Farming couple Bob and Kay Adam recently expanded their cattle business into egg production, after forming a long-term partnership with Lidl with the support of Farmlay Eggs.
"The security that Lidl has given us with long-term contracts and a cost of production model ensures a good return, back to the primary producer," said Farmlay Eggs MD Robert Chapman. "This security has enabled Farmlay to expand its own production base and also to encourage existing and new producers, like Bob and Kay Adam to invest."
Lidl's move follows an announcement by Tesco of £10m in additional funding for its egg supply chain in August. Elsewhere, Stonegate Farmers, one of the UK's largest egg suppliers, said it had secured a 'first of its kind' avian influenza policy scheme in conjunction with NFU Mutual.