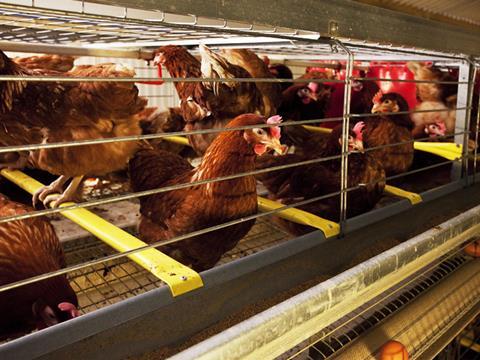 Animal welfare charity The Humane League has hit out at Happy Egg Co owner Noble Foods over its failure to eliminate the use of caged egg systems.

The group, which campaigned successfully for the UK's major supermarkets to phase out caged hen egg systems by 2025, has launched a new campaign that will urge the UK's largest egg supplier to follow suit.

Noble's claims on its website that "animal welfare is at the cornerstone of everything we do", jarred with the fact that it kept more than four million birds in cages, The Humane League said.

"While it advertises Happy Egg Co branded eggs as free-range, its Big & Fresh branded eggs come from hens kept in cramped, crowded cages," it added, as the group launched a campaign that will include protests and direct action against Noble Foods and its interests across the UK.

Noble's current policy is to go 70% cage-free by 2020, the group claimed - a commitment that was not "strong enough".

Customers did not realise that by purchasing Noble Foods' higher welfare brands like The Happy Egg Co, they were also supporting "the caging of millions of hens on Noble Foods' farms", said Humane League UK head of campaigns Pru Elliott.

"It's time for Noble to be true to its company values by ending their use of cages once and for all," she added. "Our campaign is urging Noble Foods to make a commitment to go 100% cage-free by 2025. This would bring them in line with the majority of the UK's supermarkets, retailers and restaurants, who have all made similar commitments."

The Humane League UK's MD Vicky Bond added: "For hens, life inside a cage is really no life at all. They have no meaningful opportunity to do the things that make a hen happy. For their entire productive life they are crowded in among their stressed cage mates with little more than an A4 sheet of paper worth of space per bird. They can hardly spread their wings or lay down comfortably.

"It's time for Noble Foods to turn their back on this cruelty once and for all, in line with the vast majority of supermarkets, retailers and restaurants in the UK."

Noble Foods had not responded to The Grocer's request for comment at the time of publication.