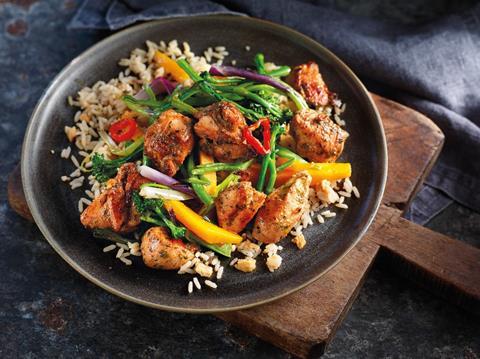 Sainsbury's is to launch a trio of new chicken products in 'no touch' pouches designed to appeal to shoppers with an aversion to raw meat.

The supermarket said the 'tear and tip' pouches allowed shoppers to tip the entire content of its packs of pre-cut marinated chicken straight into a pan, without having to touch raw chicken. It will roll out packs of Citrus Tikka chicken pieces, Chilli & Garlic chicken pieces and Teriyaki Asian Style chicken pieces (rsp: £3.50/300g each) on 3 May.

The launch follows consumer research by agency Brand Potential, which revealed almost a third of shoppers had an aversion to touching raw chicken. Meanwhile, more than 40% said they would actively choose to buy products in packaging where they didn't have to touch the meat.

"These pouches therefore help customers feel more confident in the kitchen, while also encouraging them to broaden their horizons and try products that they might not ordinarily purchase," Sainsbury's said, with a quarter of focus group respondents pointing out the pouches would encourage them to buy the products.

In an interview with the Sunday Times, Sainsbury's product development manager for meat, fish and poultry Katherine Hall added shoppers, particularly younger ones, were "quite scared of touching raw meat", prompting headlines deriding "squeamish millennial cooks".

The bags allowed people, especially those who were time-poor, "to just 'rip and tip' the meat straight into the frying pan without touching it", Hall added.

News of the launch led to a backlash on social media, with some Twitter users hitting out at the perceived increase in plastic packaging. However, a Sainsbury's spokesman insisted the pouches used "less plastic with this design versus comparable products".
It follows news last week that Sainsbury's had begun using new airtight food cartons claimed to reduce plastic content by 85% compared with widely used alternatives.