Although confectionery as a category finds itself in the eye of the storm in terms of a public and regulatory backlash against sugary foods, it remains an important part of the mix for supermarkets and comes into its own in key seasonal periods. With very strong brands across the world, the category is an obvious opportunity for supplier branding and shopper marketing.
Here, in the fourth instalment of his series on excellence in in-store merchandising, Tcc Global insight director Bryan Roberts highlights some of the activations that have impressed him around the world over the last couple of years.
Tesco (Prague)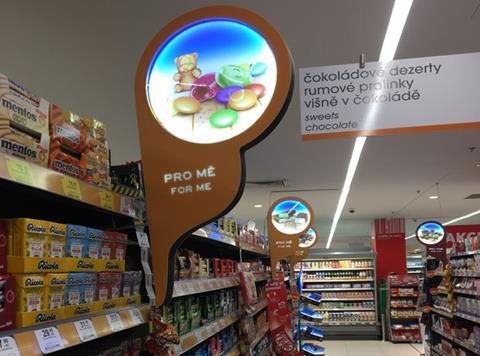 While not the most glamourous example, we really like this segmentation seen in Tesco in Prague. In what can be a fragmented and confusing category, Tesco has broken the range up – using illuminated signage and colour-coded floor graphics and shelves – into three sub-categories: for me, for you and for us. This creates much improved navigability.
Carrefour (France)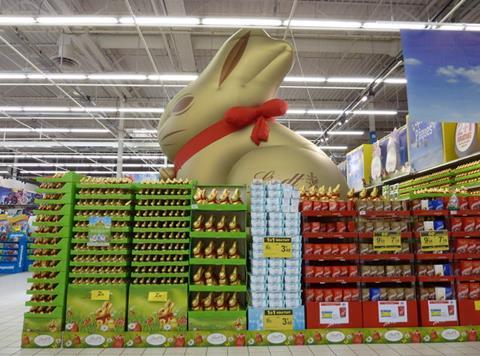 One key season for the category is Easter and we've seen some brilliant work from chocolate brands over the years. The most impactful remains this display seen in a Carrefour store in France. A display of Lindt bunnies and Lindor is overseen by what must have been a 25-foot inflatable Lindt rabbit, ensuring superb visibility and a lingering memory!
Continente (Porto)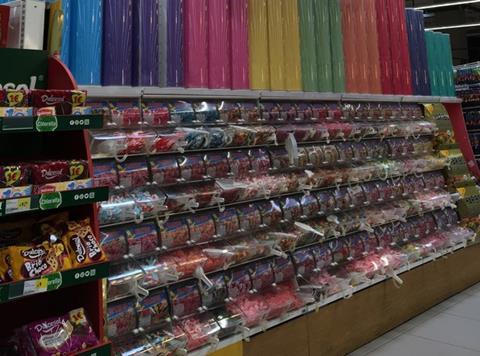 Continente in Porto is one of the more impressive hypermarket propositions that we've encountered, with plenty of innovations in design and shopper marketing across all categories. This applied to confectionery too, with the highlight being a cracking pick & mix display for Haribo. The architecture of the display was great in the first place, but it was topped off by an illuminated Haribo bear motif.
Carrefour (Warsaw)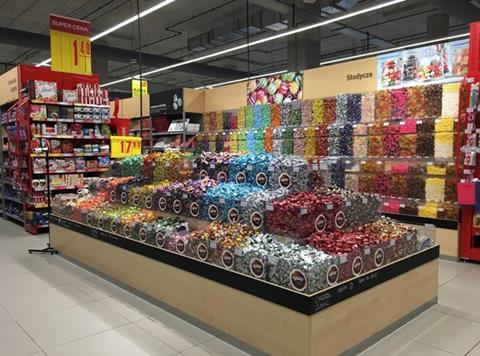 Pick & mix remains a vital part of the offer in many supermarkets and, like Haribo, Wawel in this Carrefour hypermarket in Warsaw benefits from a sumptuous display that did well at attracting shoppers both young and old.
Pingo Doce (Portugal)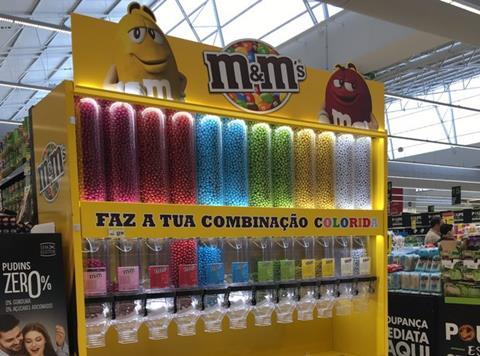 Another take on pick & mix is seen here from M&M's in a Pingo Doce store in Portugal. Usually sold in bags with no influence on the colours they receive, shoppers here can select the precise colour ratio of their choosing from a well-lit highly impactful display that uses the familiar M&M's characters.
Co-op Schweiz (Switzerland)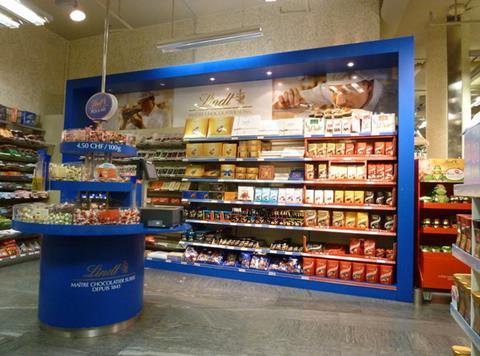 Branding – particularly for those brands with a strong national heritage – can be used to great effect. The famous Swiss chocolate brand Lindt benefits from a fine branded area in a Co-op Schweiz store. Incorporating a mini pick & mix area in addition to a full range of bars and sharing packs, this solution plays up Lindt's Swiss heritage while offering a great destination for tourists in the city centre outlet.
Sainsbury's (UK)
While lacking the scale of the Co-op's deployment, Sainsbury's in the UK has begun rolling out branded ends for the upscale chocolate brand Godiva. This enables Godiva to expand its retail presence beyond its existing concessions and standalone stores while at the same time giving Sainsbury's a bit of differentiation and Sainsbury's shoppers a new gifting option.
Union Co-op (UAE)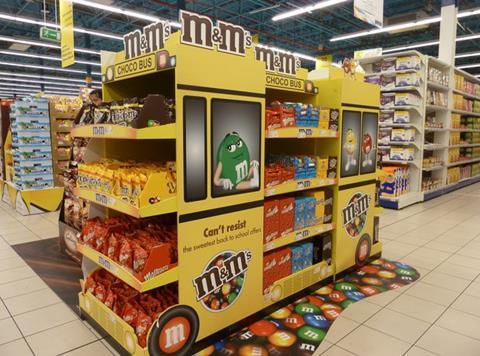 Finally, a decent bit of activation here from M&M's in a Union Co-op store in the UAE. While the seasonality of chocolate is perhaps most embedded in Valentine's Day, Easter, Christmas and Halloween, here we see a well-designed school bus display intended to help Mars tap into the back-to-school opportunity.