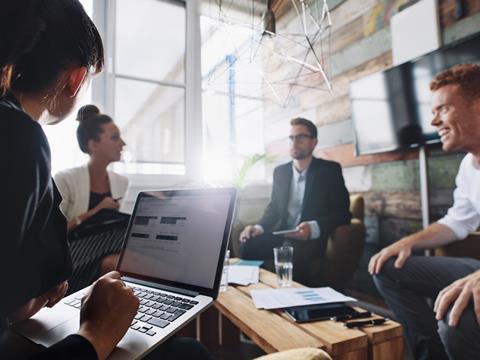 Startups and big companies are moving towards ever closer collaboration on innovation, with co-working spaces set to become the norm by 2025, a new report by Unilever Foundry has predicted.
The report, based on interviews with brand managers and startups in the UK, US, India and Singapore, found major appetite for closer partnerships on both sides and predicts collaboration with startups will "evolve from an optional extra to a business-critical investment in the next five years'. But it also warns new models of working are needed to ensure startups and their corporate partners get the most out of partnerships.
Cultural differences are a particularly common stumbling block, with two out of three startups saying a lack of familiarity with corporate processes and bureaucracy is a barrier. "A startup is operating very quickly, with huge amounts of uncertainty, haemorrhaging cash," says one startup cited in the report. "Most of the people you get contact with are the opposite. They may be full of energy and into innovation (…) they might want to work with you but they don't feel the same sense of urgency to get things done."
Shared working spaces were seen as an important potential solution to such clashes, with one corporate brand manager saying: "Work alongside them, work together: share the risk, share the reward. Don't treat them like a startup, treat them like a valuable partner. Spend time with them sharing what you know; call it mentoring or coaching or support – make sure they're getting something to carry forward from the experience."
Unilever Foundry also predicts a move away from 'tech tourism', where big business dips its toes into startup culture on an ad hoc basis but doesn't form long-term partnerships, towards more meaning, long-term collaboration.
"In the short-term, as more businesses step into the corporate and startup innovation space, Unilever Foundry expects to see an initial increase in green entries, typified by tech tourism and innovation theatre," the report says. "As this landscape matures, Unilever Foundry predicts innovation theatre will wane as corporates and startups look for more impactful results. As startups and corporates work together more closely, the risk factor decreases and companies will choose meaningful partnerships over quick fixes or instant PR gains."
Unilever Foundry was set up in 2014 to act as a platform for Unilever to collaborate with startups. It has since worked on more than 100 pilot projects with startups, with recent projects including an express delivery trial between Hellmann's and Quiqup.