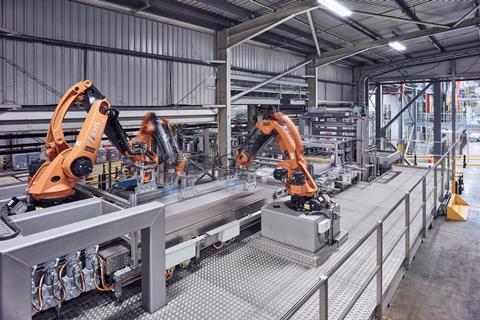 Coke bottler Coca-Cola European Partners has opened a new £20m line at its north London facility to increase production of sustainable products. The move brings the group's investment in the UK to £150m this year.

The production line at the Edmonton factory will make 'bag-in-box' products, which contain concentrate for foodservice and licensed operators to mix with carbonated water.

With no consumer packaging and less water, the format was a sustainable way to produce soft drinks, saving the equivalent of 48,400 tonnes of CO2, CCEP claimed. The new line also features "highly energy efficient" machinery and robotic packers, it added.

It is one of several announcements made this year as part of CCEP's ongoing investment programme - reaching a total of £650m since 2010 in the UK.

Leendert den Hollander, CCEP VP and general manager, said: "At CCEP, we are proud to be a truly local business, making globally recognised products right here in Great Britain.

"We are committed to investing for the future, increasing the scale of our investments in new technologies and efficient processes, as well as investing in and supporting our people to ensure they're continuing to grow, learn and develop in line with new technologies and systems. Supporting manufacturing excellence across the country, in a way that is as productive, efficient and sustainable as possible, is core to our business in GB."

There has also been a record level of investment at the bottler's Wakefield, Sidcup and East Kilbride operations in 2019. It includes a £15m investment in Wakefield that formed part of a wider initiative to end the use of plastic shrink-wrap across all multipacks of cans across the country with 100% cardboard.

CCEP is one of the world's largest independent Coca-Cola bottlers and is licensed to produce Coke products in Andorra, Belgium, France, Germany, Great Britain, Iceland, Luxembourg, Monaco, the Netherlands, Norway, Portugal, Spain and Sweden.

In Great Britain, the company employs more than 3,600 staff.