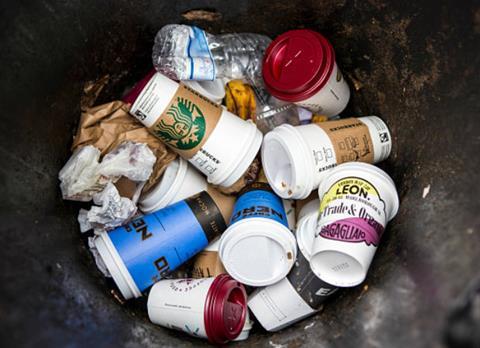 Coffee cup waste is set to soar by a third and plastic waste will surge by a fifth by 2030, according to a WWF report.

Cup and lid waste is expected to increase by 33%, while plastic waste is set to grow by 20% from 5.2 million tonnes this year to 6.3 million in 2030.

WWF attributes 67% of this plastic waste to packaging, a percentage that far outstrips the rate of the rest of the EU. The charity says this is due to an increase in convenience food purchases such as takeaway meals or prepared foods.

The report also reveals that UK consumers are the second-biggest users per person of single-use cups, food containers, straws, crisp packets and wet wipes.

WWF predicts that the UK will use 41% more plastic straws, 34% more crisp packets, and 9% more drinks bottles by 2030.

During this year alone, the UK will use 44 billion stirrers, 42 billion straws, 10.8 billion wet wipes, 6.5 billion pieces of plastic cutlery, 5.2 billion plastic food containers and 4.1 billion single-use drinks cups and lids.

However, the use of some items with single-use plastics are projected to fall with the rise of more eco-friendly alternatives. Cigarette filter waste is set to drop by 50% while the number of cotton buds used is expected to plummet by 69%.
"We are polluting our world with plastic, suffocating our oceans and overwhelming our wildlife. The amount of plastic which the UK is throwing away is set to rocket by over a million tonnes by 2030 - that's the equivalent of 87,000 more double decker buses worth of plastic waste each year," said WWF UK CEO Tanya Steele.

"We must act now - banning avoidable single-use plastic by 2025 - and introducing incentives to help people and businesses make the right choices to reduce, reuse and recycle. This Earth Hour, millions of people around the UK are sending a powerful message that we must act now on climate change and pollution to save our planet."

The wildlife conservation charity has urged the government to crack down on waste by introducing tangible policies such as the 'latte levy' and a deposit return scheme for plastic drinks bottles, citing the government's plan to ditch all avoidable single-use plastic in the UK by 2025.

This follows a wider sustainability push in the food-to-go industry over the past year.

In January, Costa, Pret a Manger and Leon pledged to remove plastic straws from their stores in favour of non-plastic alternatives.

Starbucks, Greggs, Costa, Pret and Caffe Nero also signed up to an ACE UK agreement to accelerate recycling rates for paper cups in October.