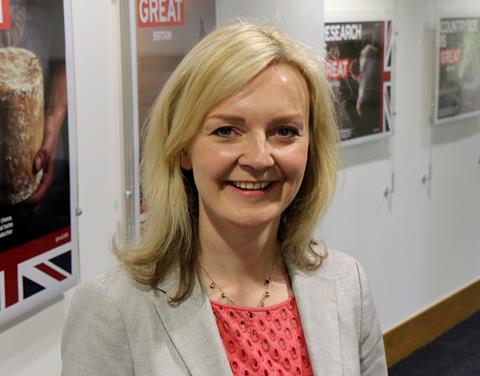 Defra is to be restructured and boost spending on key projects by 12% over the course of the current parliament as part of a raft of reforms announced by environment secretary Liz Truss.
Speaking at the Oxford Farming Conference today, Truss said the government would increase capital funding for Defra to £2.7bn by 2020, allowing it to invest in growing exports through the new Great British Food Unit, which began work this week, improving protection against animal and plant disease, boosting technology and science budgets, and investing in flood defences.
Despite having to face efficiency savings to its budget of 15% over the same period, Truss told delegates Defra would be "reshaped" to become more efficient, with a move away from its assorted departments and agencies working in silos.
"This is going to change," she said. "In the future, we will be more integrated, with Defra and organisations like Natural England, the Environment Agency, the Animal and Plant Health Agency, and the Rural Payments Agency operating towards clear shared goals."
This would be achieved by operating a single back office operation "so we can save money on admin and spend more on the frontline", Truss added.
Defra planned to plough some £65m into improving the food chain's resilience to animal disease by investing in new centres for livestock, crop health and precision engineering. "This will bring us state of the art laboratories and fund the upgrade of our bio-containment facilities at Weybridge, securing our ability to fight disease," she claimed.
Local communities would also be given greater control of their environments as part of a move away from Defra "micro-managing", Truss pledged, including permitting farmers to maintain ditches on their property. Currently, farmers are unable to remove debris, such as silt from ditches, without permission - a situation some commentators claim has worsened the effects of the recent floods.
Truss also confirmed Defra would work with the levy boards to deliver a new marketing campaign to promote British produce.
In a subsequent political session alongside Labour's shadow environment secretary, Kerry McCarthy, Truss also reaffirmed her support for extending the badger cull, and confirmed Defra did not have a "plan B" if the UK voted to leave the EU.
McCarthy, meanwhile, called for the Groceries Code Adjudicator's powers to be extended to cover the entire food chain, and for the introduction of improved provenance labelling for British foods.
Budgets
Defra's and the FSA's long-term futures came under the spotlight during the autumn after some commentators warned they could be disbanded or broken up as part of government spending cuts.
However, Defra was one of four departments to reach an early agreement to cut spending with chancellor George Osborne in November, a full two weeks before he unveiled the full details of the government's comprehensive spending review, and the 15% cut in its operational budget was lower than had been rumoured.
Meanwhile, the already cash-strapped FSA received a budget which would be frozen at £85.4m a year during the same spending review. This translated into a real-terms cut in its budget of about £6m (or 7%) by 2019-20, and this reduction, alongside a 30% cut in local authority budgets, has raised concerns about the future capability of the agency to protect consumers.