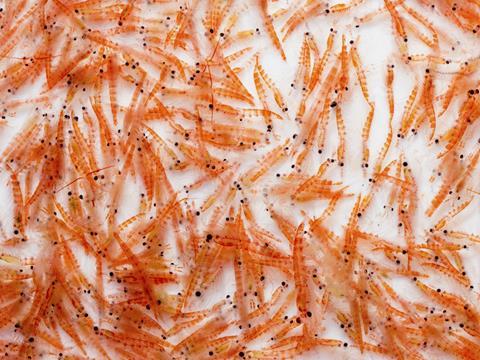 Boots has become the latest retailer to come under fire for selling products made from krill.
UK stores selling supplements containing the oil, which is derived from a shrimp-like crustacean and said to be good for brain and heart health, have been targeted by Greenpeace with penguin-themed labels stating 'Keep your flippers off my food'.

It comes after Holland & Barrett announced last week it would remove all krill-based products from its shelves following an investigation by the environmental campaign group, which claimed that the practices of the krill fishing industry in the Antarctic were putting this major food source for seals, whales and penguins at risk.

"The public mood is clear: almost two-thirds of Brits think retailers shouldn't be stocking krill products fished from Antarctic waters being considered for protection," said Louisa Casson, of Greenpeace UK's Protect the Antarctic campaign.
"Boots' stated mission is to be the UK's most socially responsible retailer in the health and beauty market. But the question has to be asked, how can customers trust Boots when it's profiting from a fishing industry which is threatening the health of Antarctic wildlife like penguins, seals and whales?
"Other shops are doing the right thing and taking krill products off the shelves: it's time for Boots to stop taking advantage of the Antarctic."

A Boots spokeswoman said caring for the environment had always been an integral part of its brand.

"Boots UK develops, manufactures and sells an extensive range of health and beauty products using a global network of suppliers," she said.

"It is of the highest importance to us that these products are sourced sustainably and we only sell products containing certified sustainable krill. The Marine Stewardship Council has stated that its krill products come from a certified fishery that is subject to yearly checks by independent inspectors.
"We are committed to traceability and transparency and support the continued collection of data to support the up-to-date understanding of the krill stock. There is ongoing discussion around further regulation of Antarctic waters and we are engaging with NGOs, including the Marine Stewardship Council, to ensure that the krill population remains sustainable.
"We welcome a conversation with Greenpeace on how we can further our common objective of delivering sustainable oceans."

Holland & Barrett has confirmed it is replacing its krill-based supplements with algal oils.

"Protecting the oceans is important to us," said Peter Aldis, International CEO of Holland & Barrett.

"The concerns expressed by Greenpeace suggest that international regulators are not taking sufficient action to safeguard against what Greenpeace expects to be a huge increase in demand for krill from Asia. We sell the tiniest fraction of the allowable annual catch and while we are pleased to be making our contribution, Greenpeace and this cause would be better served through closer engagement with these international authorities."