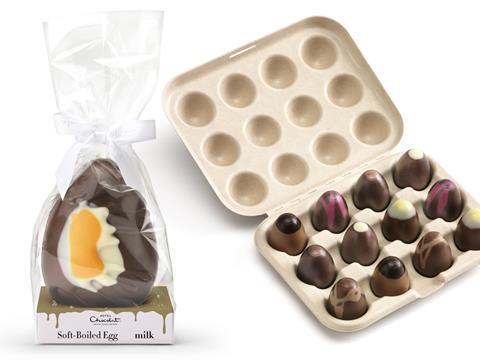 Hotel Chocolat has introduced packaging made using sugar cane as part of its pledge to make all its packaging reusable, recyclable or compostable by 2021.

The luxury chocolatier replaced the plastic packaging for its A Dozen Quails Eggs box (rsp: £10 for 145g) with an eco version made from 100% plant fibre bagasse - a by-product of sugar cane.

The box has been designed to be sustainable, biodegradable and compostable, and the chocolate eggs are made with mellow flavours including salted caramel cream, vanilla and raspberry.

Hotel Chocolat said it is using Easter as a launch pad for its bagasse packaging.
Also new for its Easter 2019 range is Soft Boiled Egg (rsp: £10 for 150g), which comes in a biodegradable cellulose bag as part of its Planet Pledge. The eggs are available in milk, white and vegan dark chocolate with a naturally-coloured yellow and white yolk design.

Hotel Chocolat co-founder Angus Thirlwell told The Grocer its A Dozen Quails Eggs box is a "trailblazer for our other packaging", adding that around 50% of its packaging is recyclable already as it pushes towards using more sustainable forms of production. "Our job is to make people happy - there's lots of turmoil around the world and spring is a time for optimism and renewal," he said.