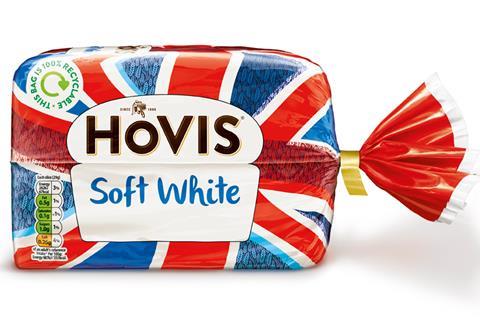 Hovis has become grocery's latest household name to kick off a packaging recycling initiative in partnership with Terracycle.
The bakery brand's Bread Bag Recycling Programme kicked off this week with the aim of creating a UK-wide network of public access recycling points.
Community groups, local businesses and individuals are invited to set up collection locations that allow shoppers to drop off used plastic bread bags, which can then be sent free of charge to Terracycle. The packaging will be shredded and converted into pellets or flakes, before being used to make products such as public benches and outdoor furniture.
All Hovis bread bags are 100% recyclable through existing plastic bag collection points at most major retailers' stores. In October, the brand added clearer recycling messaging and instructions to its packaging to "boost the number of bags that are disposed of correctly".
However, almost a third (31%) of people continued to find recycling challenging because they were unsure of what they could recycle, according to Hovis. This was further complicated by the fact only one in 10 local authorities currently recycled bread bags, the brand added.
The new tie-up with Terracycle would "improve the ease of recycling used bread bags and, as a result, cut the amount of plastic entering the waste stream" said Hovis CEO Nish Kankiwala. "Given the increasing public concern and debate about the level of unprocessed plastic waste, we hope this will help as part of the wider efforts to boost recycling of plastics."
The Bread Bag Recycling Programme follows numerous similar partnerships between Terracycle and major grocery brands including Walkers, Pringles, Whiskas and Colgate.
Hovis' scheme is part of a wider programme of environmental measures by the bread brand, which is trialling all-electric delivery vehicles and is a member of the UK Plastics Pact spearheaded by Wrap.