Plastic packaging has faced fierce criticism for decades, but never quite like this. Two months after the government announced plans to phase out avoidable plastic waste by 2042, the industry is in a race against time to find viable alternatives. What options are there?
First they came for the carrier bags. And no one really had a problem with that. But today, inspired by David Attenborough's emotional reveal of the damage plastic does to the blue planet, supermarkets are being urged to ban plastic altogether.
That's nothing especially new, the groundswell against plastic has been building since the 1970s. But it's not just Sir David recently upping the ante. The ocean may be beautiful, but it has more than a few ugly spots according to the UN environmental programme, which says it contains over 51 trillion micro plastic particles.
Emerging alternatives to plastic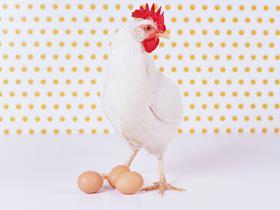 The chicken or the egg?
Pioneering work by scientists and students around the world means both can be used to make an alternative packaging to plastic. One of the finalists for the UNEP's #CleanSeas Innovation Challenge has designed a biodegradable plastic out of egg whites from waste eggs. Meanwhile, Europe throws away three million tonnes of chicken feathers every year and work involving 16 partners from 10 countries is underway at AIMPLAS, the Plastics Technology Centre, to extract keratin from the feathers, which can be added to biopolymers to produce fully recyclable, biodegradable packaging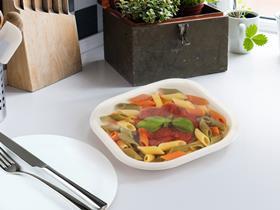 Cellulose
Iceland describes cellulose as the last piece in the ready meal puzzle - replacing a black plastic tray is relatively straightforward, but the thin sheet of plastic across the top is proving more of a challenge. Although cellulose pre-dates plastic, cheaper plastic saw cellulose fall out of favour and only one factory remains in the UK. Until recently it was non-biodegradable, which made it a pretty pointless alternative to bring back, but now a fully biodegradable cellulose can be produced and if more retailers follow Iceland's example the cost will come down, making it a viable alternative for the future.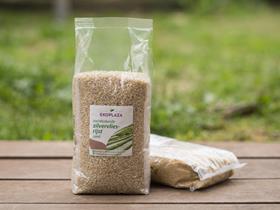 Tipa
Claiming to be the "first company to offer a viable alternative for flexible packaging for food", Tipa packaging is "bio-based and has similar mechanical and shelf life properties as ordinary plastic". The flexible packaging is made from plant-based and fossil fuel-based materials, but in combination both are compostable in months, compared to biodegradable, which only breaks down into smaller parts over several years. Tipa packaging can be used for a variety of products, from Ziploc bags to stand-up pouches, and is used by the plastic-free supermarket Ekoplaza in Holland.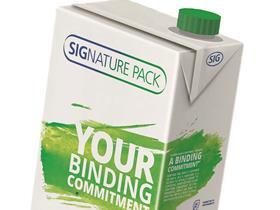 Signature Pack
SIG says it has developed the "world's first aseptic carton pack with a clear link to 100% plant-based renewable materials" and replaces plastic from fossil fuels with "certified and sustainable plant-based polymer materials". Initially designed as a solution in filling UHT milk, it admits it was a challenge to recreate "aseptic packages, where the product can be stored without refrigeration over a long period", but SIG adds that "it is also conceivable that the plant-based composite is adapted to work for the barrier properties of non-carbonated juice products".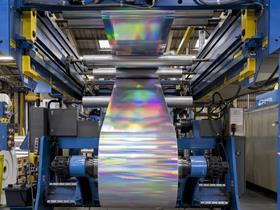 Transmet
Most drinks bottles and cartons with foil detailing have a laminate on them, but API Group has developed the "first-ever film free laminate, which provides an all-over, print-receptive coating to the base material in a bright metallic finish". That delivers an "environmentally friendly and 100% recyclable" solution that "still allows brand owners to ensure their products stand out on the shelf." It's already being used for the Scotch Whisky Association's Environmental Strategy, which includes a commitment by 2020 that all product packaging will be 100% recyclable.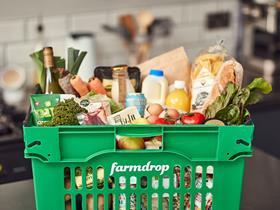 Mater-Bi
Farmdrop, the online grocery delivery service that focuses on local produce, has scrapped white paper bags with a clear plastic front and replaced them with compostable bags made from Mater-Bi, a "100% biodegradable version of a plastic, containing 60% renewable and 40% non-renewable materials, mixed with GMO-free corn starch, vegetable oils and even thistles".With such a mix, Mater-Bi is developed using an "integrated strategy" between three separate Italian production facilities. Farmdrop says switching has had "little to no impact on operating costs".
It launched its CleanSeas campaign in 2017, accompanied by more truly troubling stats. Up to 80% of the litter in our oceans is plastic. By 2050 the oceans will feature more plastic than fish. Some 99% of seabirds eat plastic. And humans are starting to unwittingly eat it, too. "It's past time we tackle the plastic problem that blights our oceans," said Erik Solheim, head of the UNEP. "Plastic is surfing onto Indonesian beaches, settling onto the ocean floor at the North Pole, and rising through the food chain onto our dinner tables. We've stood by too long as the problem has gotten worse. It must stop."

But stopping using plastic altogether puts the food and drink industry in an uncomfortable situation. Plastic and food and drink have co-existed since the 1930s and it's embedded in every stage of the process from manufacturing to retailing.

Still, in October 2017 former Asda boss Andy Clarke went all out, declaring that supermarkets should reject plastic entirely and switch back to paper, glass and aluminium.

"Go into any supermarket in the country and you will be met by a wall of technicolour plastic," he said. "Plastic encases virtually everything we buy and virtually all plastic packaging will reach landfill or the bottom of the ocean. Once there, it will remain for centuries. It is vital that the UK packaging industry and supermarkets work together to turn off the tap."

Is that realistic? A small supermarket in Amsterdam called Ekoplaza has managed it, selling over 700 products such as milk in glass bottles, fruit and veg sold loose and fresh items like sausages wrapped in a compostable plant-based material.
'Glass packaging is already proven, is non-toxic and has superior preservation properties'
But as admirable as Ekoplaza is, the challenge for a business the size of Tesco to do the same is incomparable. And even if you put those absolutely valid environmental concerns aside for a moment, there were good reasons for supermarkets to shift away from glass, paper and aluminium towards plastic - whether logistical, aesthetic, practical or commercial. Would it even be viable to switch back?

"There are no reasons why there can't be a return to glass packaging for many popular food and drink items," says Sharon Todd, head of marketing at glass manufacturer Ardagh. "It is already proven, completely non-toxic and has superior food preservation properties. It's also infinitely recyclable."

So is aluminium. CanO Water, which swapped plastic bottles for water in a can with a resealable lid (thus overcoming a previous objection), says 75% of all the aluminium ever produced since 1888 is still in use.

"An aluminium can goes from a recycling bin back to the shelves within 60 days and it's the only packaging that more than covers its recycling costs," says co-founder Ariel Booker.

Or there is paper, which a "number of companies are substituting for plastic in packaging," says Michelle Carvell, director and COO at Lorax Compliance. "Sainsbury's now uses paper trays to package tomatoes, whereas in the past it used plastic."

Will Harrop, packaging technologist at 'next generation bakery' Roberts, says it launched a four-strong range of modern artisan Bloomers in 85% paper bags last September, the "first branded paper-wrapped bloomer" in the UK.
Sustainabiliy and scalability
"Not only does this have obvious environmental benefits, but customers perceive the product to be more authentic, artisan and premium," he says. "We had to modify our existing production facilities to accommodate paper bag packaging, so becoming more sustainable has its challenges, but it's by no means impossible."

It takes time though. Dalehead Foods, part of Tulip, took three years to switch from plastic to paper-based packaging for ready to eat turkey.

"It was a challenge to take the board packaging used for sandwiches and make it fit for purpose for longer shelf life goods, but we've created a top quality solution," says Tulip's group innovation manager Matt Richards. "It's sustainable, maintains shelf life, has an eye-catching design and is consumer friendly, with a window for visibility and easy open functionality."

In short, it's "completely possible" to "change the materials we're using in place of plastics, and reintroduce packaging that uses glass or tin cans to transport soups, liquids, fruit juices and low-value ready meals," says John Haken, Director at WF Denny.

Scalability isn't an issue either, says Dave Dalton, CEO of British Glass. "It's certainly viable for glass to meet an upswing in any demand. Infrastructure can be expanded relatively easily to accommodate new lines and production increased if the long-term investment intention by customers is there."

Consumers do recognise the damage done by plastic. An exclusive poll of 1,200 people carried out in February for The Grocer by Weber Shandwick showed shoppers rated plastic as the most damaging material for the environment, with 832 saying it was bad for the environment compared to 258 for glass and 144 for paper.

But as environmentally sensitive as consumers are, not everyone will be thrilled by the prospect of paying to soothe their conscience. And neither will the industry.

"It's the dirty business of money," says Adrienne Liebenberg, sales, marketing and innovation director at DS Smith. "Plastic is the most cost effective solution. There are a minority of customers who are prepared to pay for a more sustainable alternative, so ultimately the mass market solutions have to balance economic and environmental sustainability."

To change the format of packaging from plastics "could increase the cost of items by 20%," says Haken. "There is an affordability problem in the reduction of plastics in packaging. Those who have a high disposable income spend 20% of their income on food in contrast with lower wage earners, who spend 35%. Switching low-cost plastics for glass or tin cans could have a huge social effect and impact those on lower incomes the most."

As well as increased cost for consumers and the industry, reverting to materials used in the past also feels like a backward step. A corrective one, says Iceland's director for sustainability, Richard Walker.

"The onus is on retailers, as leading contributors to plastic packaging pollution and waste, to take a stand and deliver meaningful change."

Changing means Iceland working with Europe's last cellulose factory to create the "final piece of the jigsaw" - the thin layer of plastic that covers the top of the new pulp trays. "We needed something robust and totally transparent, so we are going back to old-school technology with cellulose-based film," says Walker.

"Pulp goes in one end and cellulose film comes out of the other. It's pretty cool, but cellulose is four times the price of plastic at the moment, so potentially we will take a hit."

With Iceland scoring a huge PR coup with its progressive stance, rivals such as Aldi, Lidl and Tesco have announced plastics initiatives of their own, though none match the scale of Iceland's ambition. Will such tinkering be enough? Perhaps not. Last week Chancellor Philip Hammond announced a call for evidence on plans to reduce plastic and floated the prospect of a tax on single-use plastic products and packaging. At the same time, the cost of alternatives, like cellulose, will drop as more of the industry comes on board, says Walker.

"Our FD wants it to be cost neutral but I think long term it will lead to a rise in sales, which should fund any added costs. And it's all very doable if demand goes up. We have boldly put a flag in the ground, I am genuinely saying we want to collaborate with others. The more people come on board, the cheaper the technology will become."

It might get cheaper, but can enough be produced? Scale might not be a problem for glass or paper, but it is an issue for new alternatives to plastic, whether they are new and emerging or old dinosaurs like cellulose.

"There is a lot that's exciting to explore," says Liebenberg. "There's a lot of really interesting innovation happening right now but it needs investment and focus. The real breakthrough innovation still needs to happen. And we do not see a single alternative solution that could deliver to the scale required."

Currently, plastic "can be the best solution. In the absence of any scalable alternatives, the long life and recyclable plastic we use is pretty good. Plastic has great qualities. It's cheap, it bends, it lasts, it's impregnable, it can be rigid or flexible. It's quite an extraordinary material and something like glass simply doesn't have those qualities."

The British Plastic Federation is also naturally swift to defend plastic. "There are many positive uses for plastics in our society," says a spokesman. "Compared with many alternatives, plastic remains a sustainable choice for consumers due to its very small carbon footprint, and it contributes to a circular economy due to its recyclability and versatility. .

"We are confident that plastic packaging will remain the most sustainable choice for brands and retailers. The industry is always innovating, and continues to work on new variations of plastic materials as well as a whole host of new recycling technologies."

And it's "clear that plastic must still play a part in our future, as consumers,particularly within food manufacturing," says Carvell. "Eliminating single-use plastic altogether from fresh produce, for example, is very challenging."

Using plastic "substantially reduces food waste levels by increasing the lifespan of perishable goods across the supply chain."

And while paper is "biodegradable, renewable, recyclable, strong, versatile and adaptable, its limits to moisture resistance means its best sustainability asset is also its limitation," says Arco Berkenbosch, VP at Smurfit Kappa. "Other water-resistant materials, like glass and steel, cannot replace all plastic applications. It is clear that plastic will continue to have a role in packaging until new materials can be developed."
'There's a lot of really interesting innovation happening right now but it needs investment and focus'
Not only that, but "removing plastic from manufacturing, a material which ensures food remains edible for a longer period of time, would create a huge amount of wastage within food production carbon cycles," adds Carvell.

Kate Cawley, director at Veris, says successfully tackling plastic will come from "moving forward, instead of looking backwards to old technologies."

She says the government should introduce "new producer responsibility systems across the entire value chain", "increase education and positivity in consumer behaviour" and encourage "industry-led collaboration to develop a closed-loop recycling system whereby plastic waste is reintroduced into the food production supply chain instead of sending it overseas . It's "really important to look at confronting plastic waste using methods within our current capabilities," she adds. "Investment would be better spent on developing our infrastructure towards a more circular solution, rather than bridging the gap by moving to latent systems or materials"
And while there "is viability to introduce these materials into the UK food production industry, it won't be worthwhile until the foundations to support these types of materials are in place. Biodegradable plastics are exciting and will become extremely useful materials, but it's crucial to focus investment on recycling infrastructure before we look to introduce these products into the supply chain."

That's something the BPF agrees with. "The issue really to focus on is what we do with plastic after it has been used,, and we are committed to helping improve recycling and reducing plastic waste," it says.

"We want to reduce plastic waste so we leave the environment in a better place for future generations to enjoy. Our ambition as an industry is clear: any material that can be only used once, whether derived from plastic or anything else, has no place in the future and should be reduced."

Clearly there is no quick fix to the endemic issue of our longstanding love/hate relationship with plastic. But it's equally clear that the process to improve the situation is at least underway. And if the industry rises to the challenge it's only going to speed up.