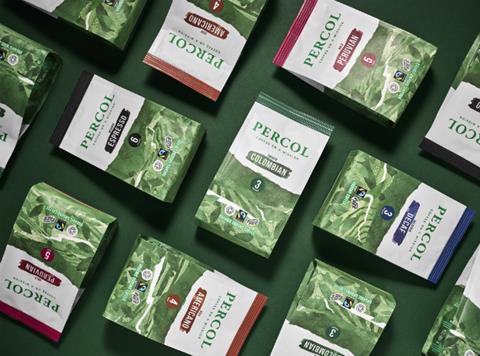 Percol has unveiled plastic-free, compostable pouches for its ground coffee and beans – in what the brand claims is a European first.
Made from renewable materials including plant fibres and eucalyptus wood pulp, the new packaging breaks down within 12 weeks through industrial composting, or within 26 weeks when home composted.
Once broken down, it could be used as "a soil improver" said Percol, which has become the first UK coffee brand to receive the Plastic Free Trust Mark from campaign group A Plastic Planet. In the ocean, the coffee pouches would "disappear" in 26 weeks, the business added.
More than 100 million SKUs of ground coffee are sold through the mults each year – usually packed in a combination of plastic laminates and aluminium. Unable to be recycled, they are either incinerated or end up in landfill. Not even the "craft-style paper" used by premium and artisanal brands was environmentally friendly, said Percol MD David Brooks.
The brand's compostable packs – the result of a "massive" investment – are the first step towards its aim of making all products plastic-free, using only sustainable materials, by the end of 2019.
They were a "game-changing for ground coffee" Brooks added. "This is not a knee-jerk to the plastics issue. We're a genuine bunch of caring people running this brand."
Development of the new packs, which began in earnest around six months ago, had "not been easy", Brooks told The Grocer. One major difficulty was creating an effective gas barrier, he said. Shelf-life had been shortened "a little bit, but we've still got 12 months".
Percol, which in 1987 became the first ground coffee brand to be Fairtrade-certified, had "always been about pioneering" its MD added. "We perhaps haven't been as pioneering as we'd have liked in the past few years, but now we're back in the game with something supersonic."
Rollout of the new packs in early November to Waitrose will mark the first stage of Percol's rebrand strategy, 'Coffee on a Mission'. It was the business's biggest revamp in its 30-year history, it said, with an aim of "returning to its pioneering roots to lead the sustainable coffee conversation once again".
Percol's eco-pouches comes days after Wessanen's Clipper Teas claimed a world-first for its plastic-free, non-GM and unbleached heat-sealed teabag. It is made from a blend of abacá (a species of banana), plant cellulose fibres and PLA derived from non-GM plant material.