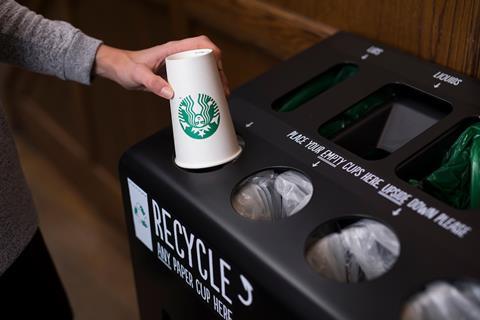 Starbucks launches 5p charge on paper cups across 35 London stores in a three-month trial to slash disposable cup use.

The charge will automatically be added on to any paper cup purchase in the trial stores, while baristas will offer to serve drinks in ceramic cups to all customers drinking in-store.

Proceeds will go to environmental charity and behaviour change experts Hubbub, which will track the impact of the cup charge on customer behaviour.

Hubbub will also use funds to support other innovative campaigns to reduce waste across London.

"We're hoping that this charge will remind customers to rethink their use of single-use plastic-lined cups, as it has with plastic bags," said Starbucks Europe communications VP Simon Redfern.

"We've offered a reusable cup discount for 20 years, with only 1.8% of customers currently taking up this offer, so we're really interested in working with Hubbub to see how this charge could help to change behaviour and help to reduce waste."

Hubbub co founder Gavin Ellis added: "Our early conversations with customers have shown an increased awareness of the need to reduce waste from single-use cups. Previous studies have shown that adding a charge on single-use cups is more effective than money off a reusable cup. We're excited to be working on this initiative with Starbucks to find out if this is the case on the high street and to discover what else will encourage people to use reusable cups."

This follows Starbucks-commisioned research that found almost half (48%) of people surveyed said they would carry a reusable cup.

The coffee giant already sells a £1 reusable cup in-store, and has done so since 2014.