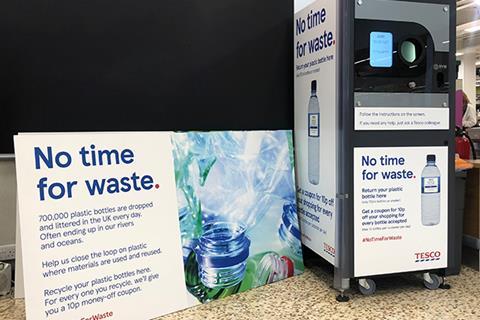 Tesco has increased the size of the bottles that can be recycled in its deposit return scheme trial, after revealing it has now seen 100,000 pass through its vending machines.

The move by the UK's biggest retailer has been greeted as a sign of support for a fully-fledged DRS system, with the industry split over whether recycling should target all bottles or just the on-the-go sector.

When Tesco first launched its reverse vending machines at trials in Borehamwood, Edinburgh Hermiston Gait, Manchester Stretford and Swansea Marina in September last year, they were limited to 500ml bottles

However, Tesco told The Grocer it was now accepting any bottle up to three litres.

The news that Tesco has recycled 100,000 bottles, with its scheme offering a 10p reward for bottles returned (currently limited to 10 bottles per customer per day), comes with the government having launched a consultation last week on plans for the national rollout of DRS.
Whilst one option, a so-called "all in" model, would target a large proportion of drinks beverages placed on the market, ministers have suggested a second "on the go" option could limit the scheme to containers of less than 750ml that are sold in single format.

The move has sparked a row between organisations such as the BSDA, which supports the all-in model, and the BRC which says the moves should be limited to the on-the-go version.

Tesco, which has been using three different companies - RVM, Tomra and Diebold Nixdorf - to pilot the DRS machines, said they had proved enormously popular, with a record 1,052 bottles being returned in one day at its Hermiston Gait store in Scotland.

"We are committed to making sure all our packaging is recyclable as we look at new ways to make recycling simpler for customers," said Tesco quality director Sarah Bradbury. "Trialling reverse vending machines is one part of our efforts. It's one of the many ways we are helping to close the recycling loop and prevent plastic packaging from going to waste."

Tesco has called for a closed loop packaging system and is also pledging to to stop packing products in hard-to-recycle materials by the end of 2019.