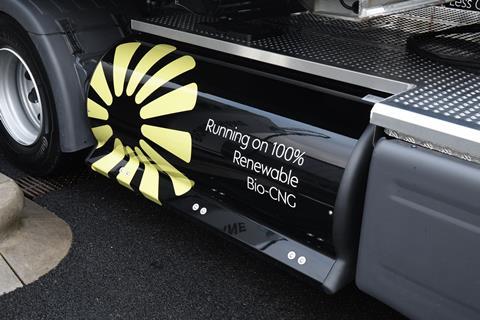 Waitrose is to trial zero-emission refrigeration units in six of its delivery trucks as part of a study into how renewable biomethane could help reduce fossil fuel usage.
The units are to be trialled in Waitrose's fleet of natural gas powered trucks and kept chilled by the vehicle's engine.
Refrigeration units are usually powered by their own auxiliary engines and account for 18% of Waitrose distribution fleet emissions.
The study is being conducted by the University of Cambridge and financially supported by Innovate UK and the Office for Low Emission Vehicles.
It will analyse performance data from a combined Waitrose and John Lewis distribution fleet of 58 dedicated gas trucks using a new CNG Fuels refuelling station in Northampton.
Six trucks will use fuel created from food waste.
The project aims to highlight to retailers the environmental benefits of renewable biomethane over dieseldelivery vehiclesby illustrating its financial, performance-based and environmental benefits. Renewable biomethane trucks can be up to 40% cheaper to run than diesel alternatives and can reduce CO2 emissions by up to 85%.
The upmarket retailer expects the trial with CNG Fuels to lead to lifetime savings of between £75,000 and £100,000 per truck compared with a diesel equivalent.The trial, due to end in September 2019, comes as part of Waitrose's ongoing efforts to become a more environmentally friendly business, which have already seen it pledge to ensure its own-label packaging is widely recyclable, reusable, or home compostable by 2025, and no longer sell packs of single use plastic straws from September this year.
"We're committed to reducing the emissions from our fleet," said Justin Laney, the John Lewis Partnership's general manager central transport. "This study will help us quantify not just the carbon emissions reduction of using biomethane, but also the benefits of using our industry-leading clean refrigeration equipment which we expect to show significant benefits for air quality."
Baden Gowrie-Smith, Chief Financial Officer of CNG Fuels, added: "Renewable biomethane fuel offers fleet operators the chance to dramatically cut carbon emissions, improve air quality and save money. This study will help convince others to make the shift and demonstrates that this is a solution that can be scaled up rapidly within fleets.".