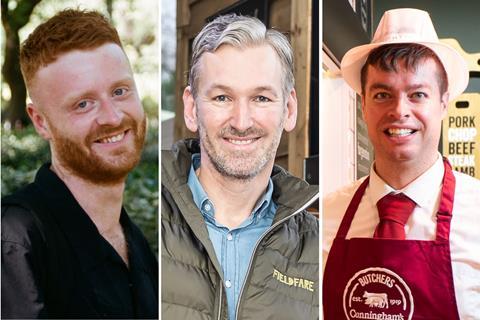 The judging panel for the Farm Shop & Deli Retailer Awards 2024 has been revealed, including three first-time members.
The free-to-enter awards – organised by The Grocer publisher William Reed and championed by Fieldfare – celebrate specialist retailers and recognise their achievements.
A panel of experts is assembled each year to judge the awards. Their work will get underway next month for the 2024 awards.
They will look for the best specialist retailers across 11 categories, including baker and butcher. The awards will also recognise seven 'best in region' winners. One category or regional winner will go on to be named Retailer of the Year.
The deadline for entries is Friday 29 September 2023. Specialist retailers still have time to enter by visiting the Farm Shop & Deli Show Awards website.
Entries will be judged by a panel co-chaired by broadcaster Nigel Barden and food writer Elaine Lemm. It will look particularly at initiatives retailers have implemented over the past 12 months to develop and grow their business.
Members of the judging panel include Debbie Edge of Edge & Sons, Iain Hemming from Thyme & Tides, Ian Nottage from Sysco Speciality Group, and Simon Hurley from P2P Food Solutions. Joining the panel in 2024 are:
Matt Whelan, MD of Fieldfare, which last year bagged seven golds in the Farm Shop & Deli Product Awards.
James Cunningham, owner of Cunningham's Butchers & Food Hall, which was named Best Large Retailer Northern Ireland and Retailer of the Year in the 2023 Farm Shop & Deli Retailer Awards.
Tom Richardson, retail manager of Paxton & Whitfield's flagship shop in Piccadilly, London.
The 11 categories for the awards:
Baker
Butcher
Cheesemonger
Delicatessen
Farm Shop, large (turnover over £600,001)
Farm Shop, small (turnover under £600,000)
Fishmonger
Food Hall
Greengrocer
Online Business
Village store/Local Shop
The seven regions for the awards:
Anglia
Midlands (including East Midlands and West Midlands)
North England (including North East, North West and Yorkshire & the Humber)
Northern Ireland
Scotland
South England (including London, South East and South West)
Wales
To find out more about the awards, visit the Farm Shop & Deli Show Awards website.