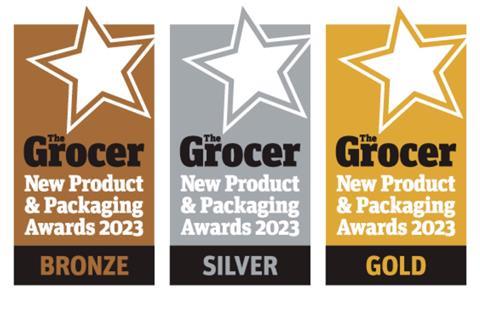 A drainable noodle pot, colourful paper confectionery wrappers and a blueberry bucket are among the finalists in The Grocer's inaugural packaging awards, unveiled this week. The shortlist is now online.
The new awards were developed to reflect the growing importance of packaging, particularly in response to sustainability concerns, and forms the second tranche of The Grocer's New Product & Packaging Awards.
Featuring 25 finalists, the five new awards categories comprise Label of the Year, Pack Design of the Year, Paper Pack of the Year, and two sustainability-focused awards focused on Recyclability and Optimisation.
Among the finalists are powerhouse brands such as Hellmann's, Quality Street, Kraft Heinz, Cranswick and Aldi, while exciting challengers include juice brand Moju and plastic-free gum brand Milliways.
All the packaging products were rigorously judged by industry experts from the likes of Sainsbury's, Wrap and Valpak, based on a strict range of criteria, from innovation to aesthetics as well as use of materials and accessibility.
"These new packaging awards constitute an important development for The Grocer," said Adam Leyland, The Grocer's editor-in-chief and chair of the judging panel. "Now, more than ever, it's not just what's inside the packaging that counts, it's the packaging itself, and the supply chain work underpinning the product's development.
"These awards celebrate clever and in some cases ground-breaking developments on the packaging side that will support a more sustainable and circular approach to product development."
The New Product & Packaging Awards – previously the New Product Awards – also includes 35 awards celebrating the best food, drink and non-food product launches and relaunches of the past 18 months.
The 2023 event finalists will receive either gold, silver or bronze medals for their efforts to bring excitement and difference to supermarket aisles and meet the needs of shoppers. Where two gold medals are awarded there will be a further award for the category champion.
The winners will be announced at a fabulous lunchtime awards ceremony at the Royal Lancaster London on 7 November 2023. Book your tickets now.