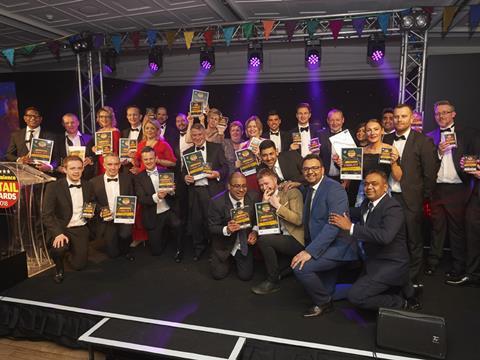 At a glittering, festival-themed evening at the Royal Lancaster Hotel in London on 15 March, the winners of the Convenience Retail Awards collected their trophies to classic rock riffs delivered by live band Ride the Fire. But it was the retailers who were the indisputable heroes of the night.

The headline act turned out to be Budgens of Islington, which clinched the Convenience Retailer of the Year prize, in addition to Best Large Store and Community Retailer of the Year, after a major refit that saw it introduce a plethora of new food to go concessions, self-serve tills and product ranges.

Store owner Paul Gardner said: "It feels absolutely fantastic winning this award. It's great for the team; they work really hard. We've evolved the store to where it needs to be now - we're not just competing against high street retailers but also online retailers and the likes of Deliveroo, which is big in the area.

"We've already taken the store forward since last year's refit, bringing in two more Cook freezers and a new hot food counter."

Best Small Store winner Kay Patel, owner of Best-one Wanstead, was equally enthused about his triumph. "I'm over the moon about winning. I feel so happy for the store and my staff.

"It's all about continuous change for the better. We are in the process of changing our whole food to go and looking at our alcohol range to give it a complete makeover."

Best Independent Store winner Mital Morar added: "I can't express how delighted I am to have won this award. It's a huge credit to my team who work their hardest to deliver every day of the week. Working in this industry can be incredibly tough at times, but for all the headaches it's also one of the most exciting and rewarding jobs out there."

Angela Prescott, manager of James Hall's Spar Roe Lane, which won the Best Multiple or Franchise Store award, said: "This means the world to us; it's just amazing. It's all about meeting the customers' needs and constantly updating. The staff and Southport deserve it - we all deserve it! Our next plan is to develop the deli, and hopefully next year we'll win the big one!"
The Winners
Convenience Retailer of the Year/Best Large Store
Budgens of Islington
Store owner: Paul Gardner
Gardner's north London store was a finalist in the CRA large store category in 2015. So the store's credentials were in little doubt when he embarked on a major refit last summer, but like all leading retailers, Gardner realised innovation was the key to staying ahead of the growing competition.
So with current trends in mind, he set about refitting the store, utilising an extra 500 sq ft of space by moving the bakery prep area and walk-in chiller upstairs. In came a plethora of food to go concessions, self-serve tills, a sharper focus on free-from and local products, and a larger alcohol range.
The results speak for themselves: sales are up 10%, equating to an impressive £25 per sq ft weekly turnover.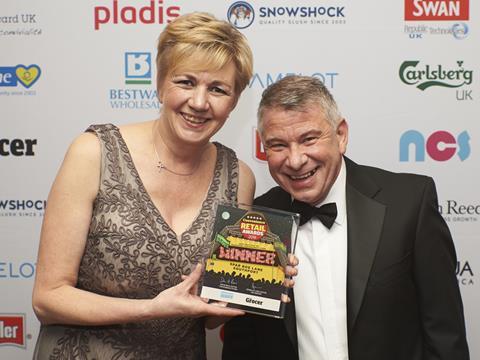 Best Multiple or Franchise Store
Spar Roe Lane, Southport
Store manager: Angela Prescott
This forecourt store - owned by James Hall company division G&E Murgatroyd - opened in September 2016. Its focal point is its incredibly popular butchery counter, with an in-store chef who creates and sells 1,000 ready meals a week, while the store also gets surprisingly high sales of fresh, chilled and wine products.
With Southport being where the James Hall business was founded, the store makes great use of this historic connection. Aisles are named after local streets, a timeline history of the James Hall business is up behind the counters, black and white photos show different landmarks in the area, and information boards provide facts about the town's history.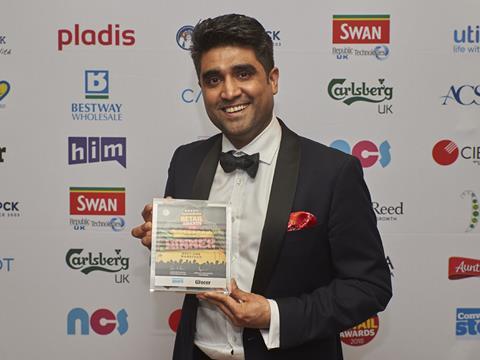 Best Small Store
Best-one Wanstead
Store owner: Kay Patel
Located in the ever-competitive London location of Wanstead, Global Food and Wines Best-one is a convenience store that offers customers a wealth of services and is clearly defined against local competition.
Owner Kay Patel has centred the 950 sq ft store on a bespoke food-to-go offer, a Deliveroo service delivering alcohol to the local area and a complete ambient and fresh range that is well presented and managed.
Kay works with local schools and even organised a soapbox race at the London Olympic stadium. He also managed to increase stamps sales by 30%, simply by using a digital billboard to let customers know the store price matches with the Post Office.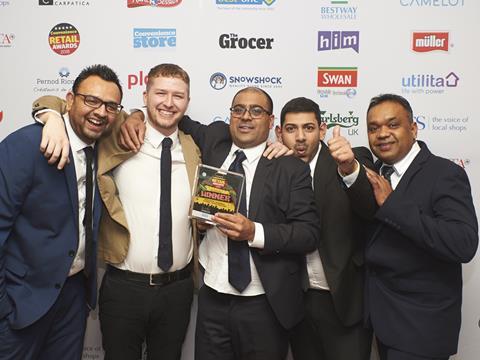 Best Independent Store
Ancoats General Store
Store owner: Mital Morar
Morar brought several key members of his enthusiastic store team down from Manchester to London to celebrate at the awards. Independence is a key part of the philosophy of the store, which offers extensive ranges of organic, free-from, ethical and artisan products, as well as an authentic barista coffee machine and an on-premise alcohol licence.
The store's young and hip clientele are even offered a selection of vintage clothing and a florist concession, while a seating area at the front of the store has a selection of board games and books for those who just want to 'hang'. A range of innovative in-store events helps build a sense of community in the heart of Manchester.
Other winners
Best New Store: Spar Walkden, Manchester
Retailer's Retailer: Steve Bassett, owner of five Londis stores, south west
Food to go retailer (large): McCullagh's Classic Service Station (Spar), Omagh
Food to go retailer (small): Hootons Newsagent (Best-one), Golborne