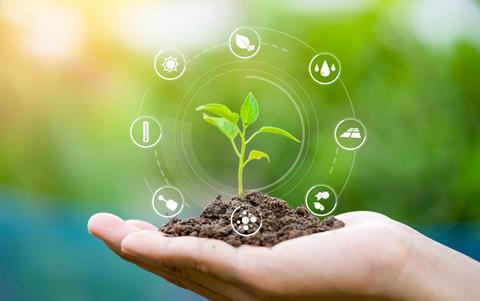 The United Arab Emirates' ambitious bid to triple the amount of food it produces and top the Global Food Security Index by 2051 will take centre stage at a new summit in December.
The UAE currently sits in 23rd place in the ranking, with a net score of 75.2 out of 100, outstripping the Middle East average of 63.0.
The country has invested heavily across the food-tech and agtech space in recent years, under the guise of its National Food Security Strategy 2051, but still imports more than 80% of the food it consumes.
It spends in excess of $3bn each year on the top three categories – dairy, fresh fruits and poultry.
Initiatives such as the Dubai Food Tech Valley are seeking to address this by bringing together R&D capabilities to develop modern technologies for food production, and overcome water scarcity and arable land shortages.
But ongoing industry and international collaboration will be needed to meet its objectives, which is why the latest developments in these areas will feature at the forthcoming World Agri-Tech Innovation Summit on 4-5 December at the Conrad Dubai.
Organised by Rethink Events, part of The Grocer publisher William Reed, it will address how the power of agtech can boost domestic food production in countries across the Middle East, Africa and South Asia.
It will also showcase technologies that can transform agriculture in climate-stressed regions, from gene editing for plant resilience, to soil restoration through to regenerative agriculture, and energy efficient controlled-environment agriculture.
With COP28 also taking place in Dubai in November and December, food security in the Middle East and beyond will come under the spotlight, with supply chain challenges created by the pandemic and the ongoing conflict in Ukraine still top of mind.
Speakers at the summit include Martien van Nieuwkoop, global director for agriculture & food at the World Bank; H. E. Eng Mohammed Mousa Alameeri, assistant undersecretary, food diversity sector at the UAE Ministry of Climate Change & Environment; Hugo Hagen, senior representative, Middle East at Bayer; and Dina Saleh, regional director, Near East, North Africa and Europe division from the International Fund for Agriculture Development.
Rethink founder and CEO Jennie Moss said: "With countries around the world increasingly experiencing extreme climate events, the technologies being developed for desert farming will be critical to the future of sustainable food production. This summit is attracting huge attention as a result.
"Agtech innovation is on the rise across the Middle East, Africa, and South Asia, with a focus on desert-tech and sustainable solutions for smallholder farmers. This summit aims to foster greater collaboration between stakeholders across the region."
To get 10% off the delegate fee use the code GROCER10. Find out more at worldagritechdubai.com