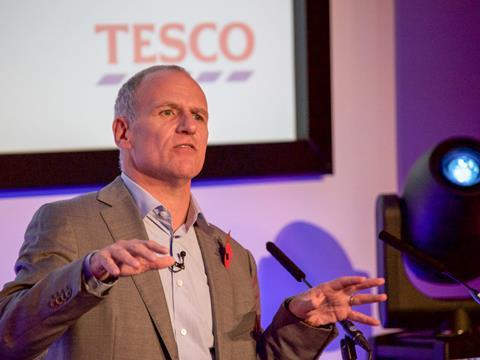 Tesco CEO Dave Lewis took home an annual pay package worth £4.6m last year – a figure slightly down from the £5.1m he received in the previous financial year.
Lewis' basic pay remained stable at £1.25m with an additional £313k of pension payments and £61k of other benefits.
His annual bonus was reduced from a figure of £2.3m in 2017/18 to £1.6m last year, which represented 52.5% of the maximum payout relating to performance against a variety of criteria – primarily the supermarket's sales growth and operating profit.
The value of long-term share awards rose to £1.3m from £1.2m, reflecting the vesting of shares awarded in 2015.
The awards last year brings Lewis' total pay to more than £22.6m since joining Tesco in its 2014/15 financial year and spearheading its turnaround.
Tesco finance director Alan Stewart also experienced a dip in annual pay from £2.9m to £2.6m as his annual bonus fell from £1.25m to £834k.
In the 12 months to 23 February Tesco grew total group sales by 11.5% to £56.9bn, while group operating profit before exceptional items and amortisation was up 33.5% to £2.2bn.