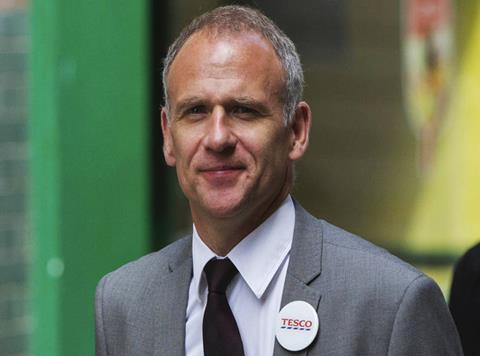 Tesco boss Dave Lewis took a 10% pay cut last year despite leading the retailer's first sales growth in seven years.

The Tesco CEO received £4.15m for 2016-17, 10% less than his £4.63m package the previous year, its annual report revealed.

Although his base salary remained fixed at £1.25m, his bonus decreased from £3m to £2.4m for 2016-17.
Lewis is nevertheless likely to remain the highest paid CEO of the big four for the past year, despite Morrisons this morning revealing David Potts had increased his pay by 24% to £2.8m.

Tesco chief financial officer Alan Stewart also received a lower bonus this year, down from £1.6m to of £1.2m.

In April, it emerged Tesco shop floor staff were to get a reduced bonus payout despite its like-for-like sales growth.

The retailer announced all staff defined as levels one and 2 who joined on or before 1 December 2016 would get at least a 3% bonus.

This represented a decrease on the previous year, when the company paid out an exceptional 5% reward bonus for staff in recognition of their help towards achieving turnaround targets.

At the time, Lewis expressed his determination to avoid inflationary cost pressures as Tesco faces up to more gains being made by its discounter rivals Aldi and Lidl.

Deanna Oppenheimer, chair of the remuneration committee said: "Tesco has had a year of strong progress, delivering against the three turnaround priorities of improving competitiveness in the UK, a more secure balance sheet and rebuilding trust, which were set in 2014.

"A stable platform has been established and a strong performance delivered in spite of significant external challenges, which made 2016-17 another challenging year for retailers."

Earlier this week, John Lewis chair Sir Charlie Mayfield also revealed a pay cut, as he waived his £66,000 bonus in the face of a challenging year.