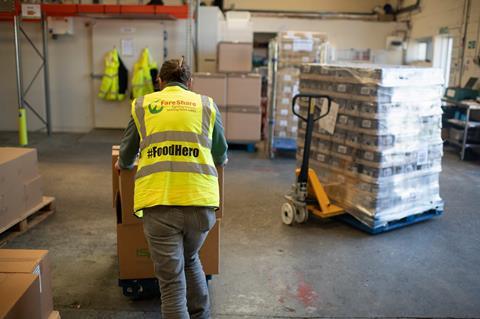 FareShare is opening a new warehouse in Plymouth to help meet demand for food across Devon and Cornwall.
The new site, which opened today (5 May) is expected to redistribute more than one million meals to people across the south west each year.
The warehouse has been operating in trial mode since November 2021, and has already supplied food to a network of more than 40 local charities across Devon and Cornwall.
It is the group's latest addition to its 30 regional centres across the country, all of which have faced high levels of demand in recent months as the cost of living crisis intensifies for many households.
"We're very proud to be supporting local communities by working alongside frontline organisations in Devon and Cornwall," said FareShare CEO Lindsay Boswell.
"The new Plymouth warehouse will allow us to create vital relationships with new suppliers and get good-to-eat surplus from the food industry on to people's plates, tackling food insecurity and the unnecessary wasting of good food."
Shelley Wright, FareShare head of region for Devon and Cornwall, said: "We are excited to open this Plymouth warehouse and use it to support and bolster existing food charities across the region."
FareShare South West, which will operate the Plymouth premises, said it hoped the new centre would "not only help stop people going hungry at this tough time, but also enable communities to be more resilient long term".
A recent study for Devon County Council showed that one in 10 households across the county experienced very low food security, with household members "going hungry due to a lack of money and resources".
Furthermore, food redistribution charities across the country have said they were struggling to meet demand for surplus food as the number of requests from families and local groups has skyrocketed in recent months – particularly since the government slashed a temporary £20-per week Universal Credit boost last October.
Food banks too have warned of a looming food poverty crisis as the prices of food, energy and fuel reach record highs.
A recent FareShare survey showed that 90% of the thousands of charities and community groups it supports have been affected by the cost of living crisis.