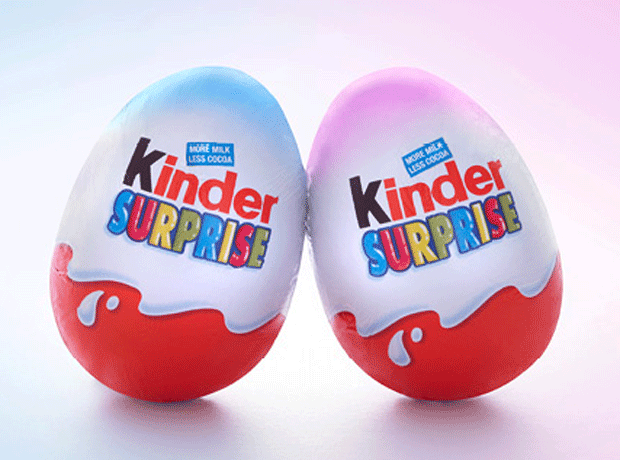 Kinder Surprise is to roll out pink eggs containing dolls and blue eggs containing toy cars - but insists the products are not reinforcing gender stereotypes.
The limited-edition eggs will be available in three bursts over the next 12 months. The first batch, which rolls out in September and will replace standard Kinder Surprise eggs for seven weeks, will come with Ferrero's Sprinty cars in the blue eggs and the company's Fashion Dolls toys in the pink egg.
Later roll-outs will feature licensed toys: February 2014 will bring Disney Princess (pink) and Marvel heroes (blue), while June 2014 eggs will contain Barbies (pink) and Hot Wheels (blue).
Brand owner Ferrero said the eggs would help parents choose the most relevant product for their child, citing research that showed two-thirds of parents with children aged four to 10 felt having separate ranges was a good idea [YouGov].
"We don't advocate or promote Kinder Surprise Pink & Blue as a gender-specific product but believe that parents should choose the toy that they feel is most appropriate for their child," said Ferrero UK customer development director Levi Boorer.
He added that the eggs used the colours deemed most appropriate by parents, with its research showing 57% of parents felt pink was best to identify Disney Princess, Barbie and Fashion Dolls and 39% choosing blue as best to identify Marvel heroes, Hot Wheels and Sprinty - twice the number that picked the second-highest colour, red.
Ferrero, which is backing the launch with a £5.3m push including TV ads, said the launch would unlock a "significant sales opportunity".
The new products have a higher rsp than standard Kinder Surprise, at 79p rather than 75p for a single, and £2.05 rather than £1.99 for a three-pack.