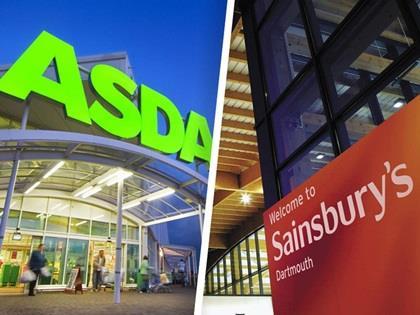 The Competition and Markets Authority will read the last rites for the proposed Sainsbury's/Asda merger on 25 April – five days before the statutory deadline, says The Financial Times £. The newspaper says few see any prospect of the regulator allowing the transaction to go ahead. It says the two groups could challenge the verdict via a judicial review but notes the expense and the amount of time that would take without any certainty of success.
Asda owner Walmart might conclude retaining a presence in the UK might not be so terrible after all, especially now that Kantar data shows its UK subsidiary has overtaken Sainsbury's market share. The US giant could also opt to sell Asda to private equity although there could be problems with this in terms of price and exit.
Majestic Wine is mulling selling its entire UK store network. It has appointed Rothschild to root out potential buyers for the brand and its 200 outlets (Financial Times £), (The Guardian), and (Sky News). The company announced in March it would rebrand as Naked Wines and focus on its digital business. It is also still exploring two other options for the stores – closure, or rebranding as Naked Wine as "shoppable wine showrooms" with the emphasis possibly on "tasting and expertise to create an experience, rather than convenience."
Coca-Cola is poised to launch new ready-to-drink Costa coffee brews in the next few months following the completion of its acquisition of the coffee shop chain in January (The Times £). Coca-Cola's first-quarter profit climbed from $1.4bn to $1.7bn on revenue up from $7.6bn to $8bn, ahead of analysts' forecasts. Underlying revenue grew 6%. The Daily Telegraph says Brexit stockpiling and buying Costa helped the drinks giant boost revenues and meet forecasts. Sky News says in an analysis that megabrands like Coca-Cola are fighting back and asks "so what's going on?"
Comic duo Ant and Dec might thrill audiences of Britain's Got Talent but the pair, who are the voices of M&S's self-checkout system along with judges Amanda Holden and Alesha Dixon, seem to have fallen flat with customers. (The Guardian).
Patisserie Valerie's former chairman Luke Johnson, has joined a committee of creditors to the failed chain (The Times £). The committee is tasked with appointing a new administrator that will consider lawsuits against the auditor and directors of the business. A source close to KPMG, which is managing the administration, said Johnson's position on the committee was "an unusual situation".
Fevertree Drinks' co-founders Tim Warrillow and Charles Rolls earned more than £7m last year after they smashed performance targets linked to a long-term incentive plan. Rolls earned £3.18m and Warrillow, £3.98m – a huge pay-packet increase compared with the previous year's £360,000 and £844,000 respectively. (The Times £)
One of the world's biggest traders of agricultural commodities, Olam, has bid $360m for Dangote Flour Mills, which would double its capacity in Nigeria. The acquisition by the Teemasek majority-owned group would add five flour and pasta mills. (The Financial Times £)
US pharmacy and retail chain Walgreens has succumbed to pressure from the US Food and Drug Administration and decided to ban customers younger than 21 from buying cigarettes and e-cigs. (The Financial Times £).
UBS has warned that British Land, Landsec, Hammerson and Intu, our of the UK's largest real estate investment trusts are heavily exposed to struggling retailers and company voluntary arrangements (The Financial Times £).
Kraft Heinz's newly appointed chief executive, Miguel Patricio, will have a lot to contend with as he attempts to revive the group's fortunes, says the (The Financial Times £). He tells the newspaper he wants the group to anticipate new consumer trends rather than react to them. The Daily Telegraph says the new boss needs to give the business a makeover and not just another manicure.
Procter & Gamble (P&G) has posted its strongest quarterly sales in eight years. Quarterly organic revenues climbed 5% year on year. Beauty and fabric climbed 9% and home care 7%. Overall net sales climbed 1% in the quarter to the end of March to $16.5bn. Net earnings jumped 9% to $2.8bn (The Financial Times £). The newspaper's Lex column notes that the group's wide portfolio provides some protection from shifts in taste. It says P&G has emerged as an example that legacy brands can persist, thrive and be central to "viral social media explosions". (The Times £) quotes Jon Moeller, P&G's chief financial officer, who said the company was "seeing strength in consumption" as it made "modest" price increases.
Investors may be prepared to pay up for long leases on supermarket properties, with pre-agreed uplifts and strong covenants but they should be choosy, advises Lex in the The Financial Times (£). The comment comes in the wake of Apollo Global Management's purchase of 32 retail properties from Casino this week for €470m and Realty Income Corporation's £429m acquisition of 12 Sainsbury's superstore properties owned by a joint venture between British Land and the UK's third-largest retailer by market share. Lex warns the problems sweeping through bricks-and-mortar retailing are likely to claim more victims. Sainsbury's will receive £133m net proceeds from the deal and will continue to operate the stores (The Financial Times £).
The Times (£) notes that British Land owns or manages a £16.8bn property portfolio, including Meadowhall, in Sheffield. (The Guardian) adds that Fidelity International property investment director Adrian Benedict predicts the value of UK shopping centres, retail parks and high-street stores could fall 20%-70% in the coming years.
Strikes at Ahold Delhaize's largest US subsidiary by sales, Stop & Shop, are estimated to land a one-off hit to underlying operating profit of $90-$110m after 10 days of strikes (The Financial Times £). The group has tentatively buried the hatchet with staff but the agreement is still subject to ratification by the United Food and Commercial Workers union albeit strikers have returned to work after a union stament declared a "powerful victory".
Casino has expanded its partnership with Amazon which will deploy "Amazon lockers" in 1,000 of its stores across France. Amazon's website and app will also sell Casino-branded products. Amazon will extend its partnership with Prime Now outside the Paris area. Monoprix's selection will be available to Prime Now customers in new cities in the next year. (The Financial Times £)
Bossa Nova, which makes the Auto-S, opened its first European office in Sheffield and is working with several grocery "household names" on pilots in Britain and elsewhere in Europe, according to its Europe managing director Red McKay. Amazon is poised to bring its Amazon Go checkout-free shops to the UK in the months ahead and Sensei, or Portugal, says it has received interest from a British supermarket. Even so, Brits have fallen behind the US when it comes to shop-floor technology, claims (The Times £).
Beyond Meat is eying up to a $1.2bnbn valuation in its stock market debut, reports the BBC. It expects to offer 8.75m shares prices between $19 and $21 each.