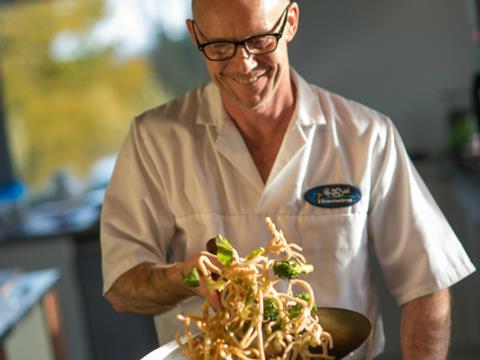 2 Sisters Food Group is to invest £55m to boost its growing ready meals division, including the complete reconstruction of its Pennine Foods factory in Sheffield.
Pennine is dedicated to making own-label products for Marks & Spencer – predominantly oriental and other global ready meal products – and will be rebuilt as it has "reached full capacity", 2 Sisters said.
The £38m reconstruction project will begin next summer and is scheduled to be completed by the end of 2017.
"M&S leads the ready meals market and is outperforming the rest of the sector," said Simon Wookey, divisional managing director at 2 Sisters Food Group. "Pennine is an aging factory and we now need to build in more capacity and flexibility to cope with that growth."
The rebuild is the cornerstone of a wider £55m investment in the division to help grow revenues from their current level of £350m to £500m by 2020.
Wookey said it was intending to safeguard the 800 jobs at Pennine – a headcount which could grow when the factory is re-opened – and that capacity will shift to the division's other facilities as the work is undertaken.
Capacity will transfer to refurbished factories at Rogerstone and Carlisle from April 2016, with this transferred capacity remaining at those sites while the new Pennine facility concentrates on producing new ranges.
Its rebuilt Pennine factory will be at the "front end of innovation", Wookey said, while the other factories will concentrate on more established lines.
"M&S is all about continued innovation," he added. "We supply 400 odd SKUs to M&S and almost 50% of those will change every single year, so being able to deliver continued NPD is the key driver here."
He added that M&S has "worked hand in hand" with 2 Sisters on the project and the two companies have been discussing how to grow Pennine's capacity for 18 months before reaching this decision.
Paul Willgoss, director of food technology at M&S said: "This is a significant investment by a key supplier. It supports our growth plans and will help us continue to deliver the highest quality and innovation in our products."
Last week The Grocer/OC&C Top 150 report found 2 Sisters had become the UK's largest food supplier, overtaking Associated British Foods at the top of the list after acquisitions drove annual revenues to £3.4bn.
In the first half of the year (six months to 31 January) the company's like-for-like chilled sales were up 2.9% and profits improved as the division "moved into recovery phase" after the 2013 impact of the wider horsegate scandal on the sector. "Our ready meals business continues to perform well with the complete relaunch of the M&S Taste range in the second quarter," 2 Sisters said at the time.