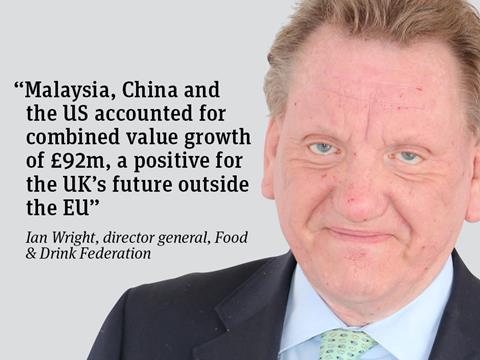 As the UK's largest domestic manufacturing sector it is sometimes easy to forget that food and drink is also a key export success story. That's important not only because of its economic contribution but also as an important component of 'brand UK' overseas.
As we feel our way through the first few months of uncertainty post-referendum, it is very important news for the industry and for the UK economy that food and drink exports grew strongly in the first six months of this year – particularly following the first fall in exports for a decade last year.
Exports of food and non-alcoholic drink were up 8.7% to £6.6bn, while overseas sales of branded goods grew by £93.7m (+6.2%) to £2.4bn in the first six months of 2016.
In the context of the European Union (EU) referendum outcome, it is important to note that the EU remains hugely significant for our sector. Nearly 70% of all branded exports are to the EU, worth £1.7bn in the year to June. In fact, eight of the top ten markets for branded exports were EU countries and particularly strong sales growth was seen in Poland (up 35%), Italy and Belgium (both up 10%).
Exports of branded goods to non-EU markets grew by 14%. Key drivers of this growth were Malaysia (+268.5%), China (+100.9%) and the United States (+31.6%), which accounted for combined value growth of £92m, a positive for the UK's future outside the EU.
These figures were achieved before the referendum but suggest we enter H2 in great shape. In the post-Brexit period there are indications that export strategies put on hold in the run-up to 23 June are now moving forward, with companies placing additional focus on exports to drive growth.
Short-term, the fall in the price of sterling following the referendum should help as UK goods have become more competitive. Some commodities have already benefited from a weaker pound in the first half of the year, with wheat and barley exports showing continued growth. However, it is important to remember that UK manufacturers also face increases in the prices of vital imported raw materials. These, if sustained, will soon begin to impact on margins and result in higher consumer prices.
If H2's exports figures are to be as strong as H1, we need more and more food businesses to embrace exporting as fundamental to their growth plans. Here are three great examples:
At Nairn's Oatcakes, one of our members, exports account for approximately 10% of their turnover and they've seen overseas sales increase around 20% year on year, in line with their strategic export ambitions.
In the last six years Nestlé's York site has received over £50m investment, a manufacturing facility fit for competitive production for both the UK and overseas markets. More than 17% of annual confectionery production made at the site is exported to over 70 countries across all continents.
FDF has set an ambition to grow branded food and drink exports by a third to achieve a total value of £6bn by 2020.
We have partnered with the Food & Drink Exporters Association to help more of Britain's 6,500 producers to export, championing UK exporters and providing a platform for manufacturers to receive practical advice which we hope will help unlock our industry's huge export potential.
Finally, we eagerly await the launch of Defra's export plan. It will set out Government and industry actions to grow sales of UK food and drink overseas. We will work closely with the new Secretary of State Andrea Leadsom MP and Food Minister George Eustice MP to ensure food and drink manufacturing continues to be a beacon of Great British domestic and export success.
Ian Wright is director general of the Food & Drink Federation