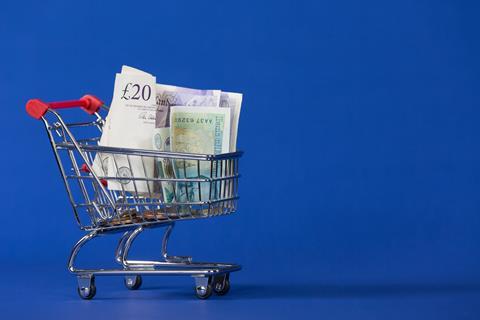 The clouds are brewing, the waves are lapping. An inflationary storm is on its way. The only question is when it will hit.
For now at least, inflation is slowing, falling to 2% in July. But analysts insist this is the "calm before the storm". The Bank of England predicts that inflation will hit 4% by the end of the year.
The reasons are apparent. Commodity prices hitting record highs, global shipping in disarray, labour shortages limiting production, and continued strong global demand for goods.
And it's making investors worried. In July, Unilever CEO Alan Jope warned that many ingredient costs were now "running at inflation levels we have not seen since 2011". Along with Nestlé and Danone, Unilever has issued profit warnings as a result. Danone's gross margin could fall by up to 2.16%, according to Jefferies.
If historical precedents can offer a snapshot of the future, then here at least, companies will find some hope. The financial crash of 2007-08 led to equal, if not greater, inflationary pressure on food and drink and in many cases had a similar effect on profit margins.
AB InBev saw profits fall 1.7% from 2007 to 2008, PepsiCo lost 1.2%, while General Mills, owner of brands such as Häagen-Dazs, Cheerios and Old El Paso, dropped a whopping 3.2%. By 2009, however, they'd turned it around. AB InBev was up 0.6% compared with 2007, PepsiCo up 0.3%, while General Mills grew 2.4%.
And just like 2007-08, this latest period of inflation is expected to quickly subside. The European Central Bank believes the current pressures are best interpreted as "the unwinding of disinflationary forces that took hold in 2020" and therefore the medium-term outlook "remains subdued".
The World Bank similarly predicts "low and stable inflation" in the long term, while the Bank of England expects inflation to return to 2% in about two years. While it does last, shoppers are likely to be worst hit. 2007's bout of inflation saw producers and retailers pass on all of £5.7bn inflation costs to customers, while in 2011 it was 60%, OC&C analysis shows.
In 2017-18, retailers even took the opportunity to boost their margins by 0.3% when commodity prices rose. The public will hope they won't be so bold as to try that tactic again.
OC&C Global 50 food and beverage report and ranking: the impact of Covid-19
1

2

Currently reading

Analysts say this is the 'calm before the storm', so when will inflation hit?

3