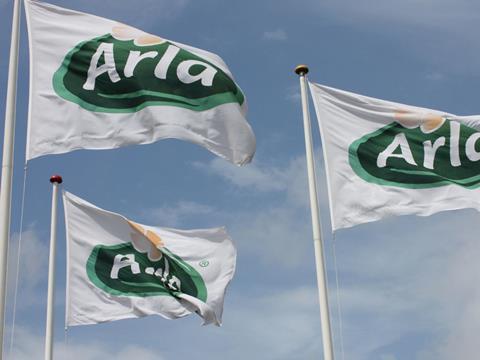 Danish dairy firm Arla Foods is the biggest riser in The Grocer's annual ranking of the world's largest fmcg suppliers, but overall revenue growth across the Global 50 fell to its lowest level since the start of the recession.

The 2015 Global 50 ranking, produced with OC&C Strategy Consultants, showed Arla rising nine places to 36th as sales grew 9% to $11.3bn last year despite tough conditions for the global dairy industry.

Other big movers included Swedish consumer goods company SCA, up four places to 33rd on 7.8% annual growth, and Estée Lauder, up six places to 40th after 7.7% growth.

The Global 50 now includes China's WH Group, which enters in 17th position after its acquisition of US pork producer Smithfield Foods almost doubled its revenues. WH Group became the second Chinese company in the Top 50 list after Tingyi's entry last year.

In a further sign of the growth of emerging markets giants, the second-highest annual revenue rise was recorded by Brazilian meat producer JBS. Its grocery sales rose 18.3% to $49.1bn in 2014 and since then it has expanded its footprint into Europe with the acquisition of Northern Ireland's Moy Park.

Nestlé remained the largest global fmcg firm with revenues of over $100bn, ahead of P&G in second place with grocery sales of $83bn.

Overall revenue growth across the 50 fell last year to just 1.7% in 2014 (excluding certain M&A activity) - the second weakest growth figure in the past 10 years - compared with 2.9% in the previous year.

This growth slowdown was accompanied by tightening margins after three years of margin improvement, with weighted average margins falling 0.3 percentage points to 16.8%.

OC&C's head of consumer goods Will Hayllar commented: "The traditional multinational FMCG business model is under real pressure, with growth proving harder to find than ever despite a generally improving global economy.

"Fragmenting consumer tastes and digital technology is eroding traditional scale advantages, enabling smaller focused players to gain share in developed markets, whilst aggressive local competitors are gaining ground in the BRICs. Scale is not dead but it needs reinvention by the Global 50 if they are to grow and prosper."

A number of global giants had their results dragged down by currency fluctuations, which had a 7%-plus drag effect on companies including Diageo, Phillip Moris and Pernod Ricard. However, both organic growth and volume growth also declined significantly against previous years.