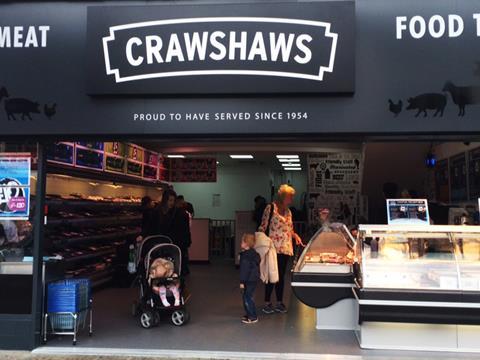 Top story
Ranjit Boparan has struck a deal to enter the meat retail business with a £5.1m investment in struggling value chain Crawshaw (CRAW).
Boparan has taken a 30% stake in the AIM-listed company through his Boparan Private Office investment vehicle, which he used to acquire Bernard Matthews last year, with an agreement in place to buy an additional 20.1% in the future.
Crawshaw has also entered a "transformational" supply chain partnership with Boparan's 2 Sisters Food Group, which supplies chicken to the major supermarkets.
Former Poundland boss Jim McCarthy will join Crawshaw as chairman, with current chairman Richard Rose, who has been with the group 11 years, to retire after the upcoming AGM on 28 June. McCarthy, who is currently chairman of UP Global Sourcing, joins the board immediately as a non-executive director and chairman-elect.
Shares in Crawshaw plunged 10% to 27p as markets opened this morning, reflecting the deal price paid by Boparan of 15p a share.
Crawshaw also revealed this morning in a separate statement that underlying losses in the year to 29 January 2017 widened to £1.1m, compared with £300,000 12 months ago. Like-for-like sales slumped 7.3% in the year, but the group said momentum recovered throughout the second half. Revenues increased 19% to £44.2m, driven by its store expansion programme.
Following the initial investment by Boparan, Crawshaw is planning to restart its accelerated new store opening programme, with an initial focus on factory shop locations.
The group said the new supply chain agreement with 2 Sisters would give it immediate access to increased volumes of fresh poultry.
Crawshaw added it would use its vertically integrated capability to take supply of quality fresh meat, poultry and other grocery products from the supply/demand imbalances, preventing the creation of unnecessary food waste. It also said its customers would benefit from an expanded range at competitive prices.
Crawshaw has been one of the star performers on the London Stock Exchange's junior market in recent years, as the group moved from a micro stock worth pennies in 2013 to trading at highs of 95p a share in 2015.
The business, which has expanded rapidly in its Midlands and Yorkshire heartlands, benefitted from the recession as shoppers turned away from the big four supermarkets to trade down to discount retailers such as Crawshaw.
However, the business struggled in 2016 as the supermarkets waged a new price war in the meat aisles and footfall at its shops fell away, leading to declining revenues and profit warnings.
The share price also collapsed to as low as 15p in March this year, recovering slightly in the past month to 27p.
Crawshaw CEO Noel Collett said: "This is a transformational partnership for the Crawshaw Group with a significant opportunity to offer a greater range and better availability to our customers.
"This new relationship provides a catalyst to our accelerated growth, both in sales and profitability.
"We very much welcome the 50/50 equity split as it reflects the symbiotic nature of the partnership and aligns both our interests to achieve maximum shareholder value. The two-stage subscription including conditional warrants will allow the commercial benefit to be demonstrated as part of the process."
Ranjit Boparan added: "This is a great opportunity that complements our corporate social responsibility policy and our aim to reduce levels of quality food that would otherwise go to waste.
"Our businesses have a significant number of opportunities to work through together in the coming weeks and months."
Jim McCarthy, chairman-elect of Crawshaw Group, said: "I am delighted to be joining Crawshaw Group at such a transformational time for the business. There are clearly significant opportunities for further growth, and together with the 2 Sisters Food Group, we have the ideal partner to create value for both businesses."
Non-executive director Ken McMeikan will retire from the Board at the AGM to make way for Boparan Private Office CFO Stephen Henderson, who will join as a non-executive director upon completion of the initial investment.
Invest Co 1 Ltd, a vehicle 100% controlled by Boparan Private Office, and Stephen Henderson are expected to acquire 34 million new Crawshaw shares for £5.1m, representing a 29.9% stake and a price of 15.2p a share – which was the value of the group as the deal was being structured.
Boparan will pick with a further 45 million shares, also at 15.2p a share, to take a further 20.1% stake in the group in 12 months' time, subject to the market closing price of Crawshaw being at least 40p per share for five days immediately preceding exercise of the warrants.
Morning update
Elsewhere this morning there are trading updates from Nichols (NICL) and Glanbia (GLB).
Nichols non-executive chairman John Nichols is set to tell the soft drink group's shareholders at this morning's AGM that the trading performance for the first quarter of 2017 is in line with management expectations.
He will add that, in the UK, the Vimto brand continues to outperform the market with reported sales up by 3.4% compared with the first quarter of 2016. It compares favourably to the total soft drinks market growth of 1.2% in the same period (Nielsen: year to date to 25 March 2017).
"In our international markets, sales to Africa have maintained the growth momentum from 2016 and as anticipated, the first quarter has been a busy period for sales of Vimto concentrate to the Middle East ahead of Ramadan which begins at the end of May," Nichols will tell shareholders.
However, Nichols will warn that he expects the UK soft drinks market to remain challenging throughout 2017, with the addition of currency-related input cost inflation to an already price competitive environment.
Glanbia delivered "good" revenue growth in the three months to 1 April, MD Siobhán Talbot said ahead of the Irish group's AGM.
"Glanbia Nutritionals had a good performance and was the main driver of growth," she added.
"Glanbia Performance Nutrition delivered in line with expectations, as a strong performance in non US markets countered some challenges in the US market. The outlook for the remainder of 2017 is positive and we reiterate our full year guidance of 7% to 10% growth in adjusted earnings per share, constant currency, from the continuing Group (pro-forma*) with growth weighted to the second half of the year."
Glanbia also signed the binding transaction agreement to sell a 60% interest in the Dairy Ireland segment and related associate businesses to Glanbia Co-operative Society, announced earlier this year.
DanoneWave, the newly combined entity of WhiteWave Foods and Danone's dairy business, has been incorporated as a public benefit corporation in the US. With more than $6bn in revenue and 6,000 employees, DanoneWave will be the largest public benefit corporation, which is a corporate structure intended to operate in a responsible and sustainable manner. The move comes after the $12.5bn takeover of WhiteWave completed earlier this month after getting clearance from US regulators.
"From our beginning we aspire to create economic, environmental and social value in our everyday decisions about how we operate DanoneWave," said Lorna Davis, CEO of DanoneWave and Danone's chief manifesto catalyst. "We'll do this in the interest of our shareholders, employees, consumers, customers, and suppliers, and improve the impact of our activities on the environment.
"In 10 years it is my hope that it will be inconceivable that business will be done in any other way and all businesses will work to make the world a better place by making environmental and social responsibility an integral part of, and contributor to, business success. Real progress goes from the 'unthinkable to the impossible to the inevitable,' and for many today we are at the 'impossible' stage, but it will soon be 'inevitable'."
Yesterday in the City
Nestle (NESN) closed the day down 0.1% to CHF 77.20. The Swiss consumer giant hit the headlines after news emerged it planned to cut 300 UK jobs and move Blue Riband production to Poland.
Coca-Cola (KO) XXXX after it reported first quarter earnings dropped by 20% amid a double-digit sales decline and high than expected costs relating to the restructuring of its bottling operations.
Whitbread (WTB) was the FTSE 100's biggest faller yesterday despite showing decent growth at Costa Coffee and Premier Inn. The group slumped 7.2% to 3,998p after it warned of a tougher consumer environment in 2017.
The FTSE 100 continued to make hay on the French-induced boost to investor confidence. London's leading index rose another 0.2% to 7,275.64 points – on top of a more than 2% rise on Monday.
The three listed supermarkets again made gains, led by Morrisons (MRW), rising 1.1% to 233.9p after a broker note by Jefferies said it expected next week's first quarter trading update should confirm "good progress". The broker forecast a 1.7% jump in like-for-like sales, in line with the fourth quarter, despite cycling a toughening comparison from a year ago.
Tesco (TSCO) and Sainsbury's (SBRY) were also lifted by 0.4% to 177.7p and 0.3% to 272.2p respectively.
Conviviality (CVR) and Fever-Tree (FEVR) were also among the risers, up 2.8% to 307.2p and 3% to 1,629.8p.
Sandwich maker Greencore (GNC) was the biggest casualty of the day. The stock plunged 7.4% to 227.4p on the news that US meat producer Tyson had acquired rival ready meal maker AdvancePierre Foods for $4.2bn, including debt.
Ocado (OCDO) was also in red, tumbling 1.8% to 249.5p on the back of a critical note from Bernstein. Analyst Bruno Monteyne said Ocado was a "fantastic retailer but profit, sales and deal expectations are too high".
Associated British Foods (ABF), WH Smith (SMWH) and Finsbury Food Group (FIF) were all among the fallers, down 2% to 2,821p, 1.5% to 1,76p and 2.3% to 106p.