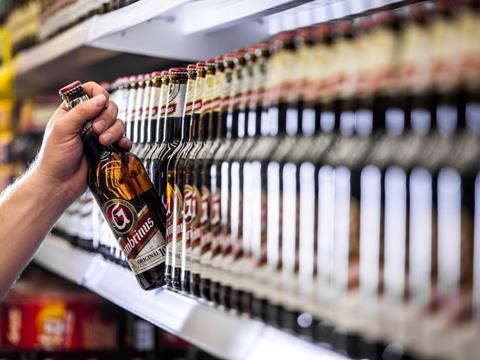 Top Story
Rumours have been rife in 2015 about possible targets for investment firm 3G Capital's next mega-deal, with big hitters Kellogg, Coca-Cola, Mondelez, McCormick, PepsiCo and Campbell Soup all reportedly coming under its gaze. City sources have now told the Daily Mail that the private equity firm, led by former professional tennis player Jorge Paulo Lemann, is lining up an "audacious" £75bn takeover bid of Britain's biggest brewer SABMiller (SAB).
The plan is believed to be in its early stages and no formal approach has been made to the Peroni maker, with 3G and SABMiller both refusing to comment.
3G, which turned heads in 2013 with its $23bn Heinz takeover, is said to be looking into how it could buy SABMiller as part of a consortium, which could also include AB InBev. Lemann, and the firm's other principals, played a key role in the creation in 2008 of brewer AB InBev, putting together the $46bn deal between InBev and American brewer Anheuser-Busch.
The City took notice of the news, sending SABMiller's share price up 2.5% to 3,542.5p shortly after the market opened.
Morning update
It's been an extremely quiet morning on the Stock Exchange for the grocery sector so far. But outside of market news, there have been reports of a new rider in the race to become Tesco's next chairman, with former Tory MP Archie Norman entering the running. Norman made his name turning round Asda in the 1990s and now chairs the board of ITV. It pits him against Dixons Carphone deputy chairman John Allan, who has so far been the outright favourite to take Sir Richard Broadbent's seat.
The news comes as Tesco's plans to cull up to 10,000 staff hit the papers, with almost 4,000 managers in the firing line as Dave Lewis looks to radically change the way the retailer is run. Shares in Tesco (TSCO) crept up 0.6% to 243.1p upon opening.
Elsewhere, as reported in The Grocer on Friday night, more than 200 jobs have been saved at Midlands chocolate maker Ashbury Chocolates after the owner of Belgian brand Duc d'O acquired the company out of administration. Business restructuring partners Malcolm Cohen and David Gilbert at BDO were appointed as joint administrators over Ashbury Chocolates on 9 February and concluded the sale of the business and assets on appointment to Baronie UK.
Last week in the City
GlaxoSmithKline (GSK) was one of the market's major movers on Friday after being driven 4.5% higher to 2,905p following a strong broker upgrade. GSK has looked to shed a significant proportion of its more traditional fmcg brands in recent years to concentrate more on growth in health and pharma. It's a strategy that's paid off, according to UBS, which moved from sell to buy on the stock, noting: "For the first time in over a decade, we see scope for substantial earnings growth in the coming 3-5 years".
Elsewhere it was a more muted day in the City. Sainsbury's (SBRY) edged up by 1.4% to 266.8p, while Morrisons (MRW) and M&S (MKS) were both up 0.5% to 183.5p and 494p respectively.
Stocks generally traded up as the FTSE 100 rose 45 points (0.7%) on the stronger than expected economic growth data from Germany.
However, Associated British Foods (ABF) continued its decline after strong mid-January gains, falling another 2.1% to 2,905p.
The week ahead

The diary this week looks a little quieter for company announcement than the big week of international results just past, but some extremely significant global players are among the handful of firms reporting numbers over the next few days.
The most notable earnings release this week for the UK grocery market is probably Walmart's Q4/full year numbers on Thursday. Particular attention will be focused on Asda's fourth quarter performance, with the UK's second largest supermarket having slid from the best performing of the big four to the worst performer judging by recent market data.
Last week Kantar Worldpanel found that Asda's sales over the past three months had slid by 1.7% (compared to 0.3% growth at Tesco) and it was the joint worst performing of the mults over Christmas (down 1.6%). Bernstein analyst Bruno Monteyne argued that Asda is the chief victim of Tesco's recent resurgence.
Elsewhere, Coke's European bottler Coca Cola HBC issues its Q4 results on Wednesday following a recent share price roller-coaster ride given its exposure to Greece, Russia and Ukraine. The FTSE 100 firm reported falling profits and volumes in the third quarter as political instability in Eastern Europe hit sales. The company, which has a secondary listing in Athens, saw its shares hit a year-low in mid-January, but is back up by around 4% since then.
Along with Walmart on a busy Thursday come full year results from Swiss food giant Nestle and packaging firm Rexam, currently locked in multi-billion pound takeover talks.
Nestle's earnings should be solid relative to its international fmcg peers, but the company has been hammered by the strength of the Swiss franc (which has become dramatically stronger since the end of its financial year). Currency impacts are expected drag down revenues by as much as 10-15%.
The main focus around Rexam's results will be any update on the £4.3bn takeover bid by rival US can-maker Ball.
Elsewhere, the UK CPI and RPI numbers for last month are out tomorrow morning, while the Bank of England's interest rate minutes are out on Wednesday. Recently the main point of interest on the minutes was how strong the push for an interest rate rise had been, but currently pressure may be building to cut rates even further from their historic 0.5% low.
Wednesday also brings an update on UK unemployment, while the CBI trends surveys are out on Thursday.
Finally, the official UK retail and online retail sales from the ONS will be published on Friday.