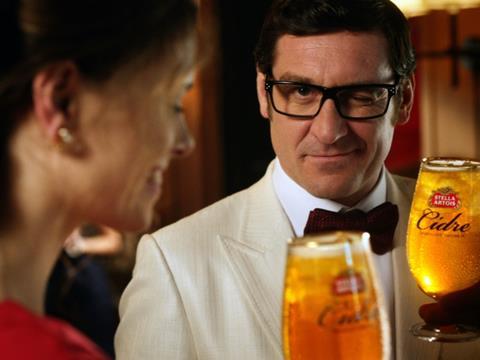 Top story
The world's largest brewer AB InBev (ABI) has announced a $1bn share buyback programme and predicted that its beer volumes will rise in 2015, despite being boosted by the World Cup in 2014.
The maker of Budweiser and Stella Artois said that full year revenues grew by 5.9% during the year and by 7.6% in the fourth quarter. Total volumes were up by 0.6% in 2014, with own beer volumes growing by 0.5% and non-beer volumes growing by 1.3%.
Volumes fell by 1.4% in its largest market the US, however it expects volumes in the US to improve in 2015 and predicted mid-single digit net revenue growth in Brazil despite the comparative with the 2014's World Cup year.
In Europe, volumes decline by 6.1%, but the UK "a very strong year" despite an estimated decline in industry volumes. AB InBev UK volumes were up 1.5% in the year and up 2.1% in the fourth quarter "as a result of continued good performances by our focus brands, leading to estimated market share gains in the off-premise".
AB InBev announced a $1bn share buyback scheme to take place during this year and hiked its dividend by almost 50% from €2.05 per share last year to €3.00 per share.
Morning update
British American Tobacco (BAT) announced a smaller than expected annual sales fall this morning – with revenues down 8.4% to $14bn in 2014, but up 2.8% on a constant currency basis. Profit was up 4.4% at constant rates of exchange, but down 7.2% on a reported basis.
Volumes declined by of 1.4% against an estimated industry decline of 2.5%. Total tobacco volume was 1.3% lower. Chairman Richard Burrows said the company "continued to perform extremely well despite challenging trading conditions".
Earlier this week BAT announced it was weighing up an offer for the remaining 24.7% of its Souza Cruz subsidiary that it does not currently own. It said today: "This investment would further strengthen our presence in Brazil, a key strategic market where we are already market leader. It would also provide opportunities to leverage Souza Cruz's capabilities in areas such as leaf and closer cooperation in research and development, while further integrating the business into our Americas region."
BAT shares opened up 0.5% higher to 3,751p this morning, while AB InBev slipped 0.2% to €110 in early trading.
Elsewhere, SABMiller (SAB) was up 1.4% to 3,685p on ongoing speculation that AB InBev's cash rich position could mean the long mooted bid for SAB is more likely. Morrisons (MRW) also continued its upwards trend, rising another 0.8% to 194.4p this morning.
Yesterday in the City
The FTSE slipped slightly from its all-time high yesterday, to end the day 0.2% down at 6,935.4pts.
There were still plenty of stocks on the up despite the FTSE's dip. Morrisons ended the day 0.6% up to 192.9p as the market reacted well to the appointment of former Tesco exec David Potts. Tesco itself was on the up too – rising 1.1% to 240.9p on the back of a Bernstein note backing the supermarket's turnaround plans. Sainsbury's was also 0.6% up to 271.7p on what was a good day for the sector.
But those rises were put in the shade by Irish dairy and sports nutrition group Glanbia, which was up 5.3% to €15.48 after posting a 6.9% full year revenue growth and bullish forecast. Butchery group Crawshaw was up another 4.4% yesterday on the back of its near 20% rise yesterday after it reported a 5% rise in like-for-likes on Tuesday.
There was less good news for Thorntons, which fell 10% to 67p – it has now fallen by almost 45% since December.
Elsewhere Greggs was 2.7% up to 865.5p and Dairy Crest rose 1.8% up to 489.5p. SABMiller fell 1.5% to 3,640.2p and Imperial Tobacco was 1.3% down to 3,112.6p.