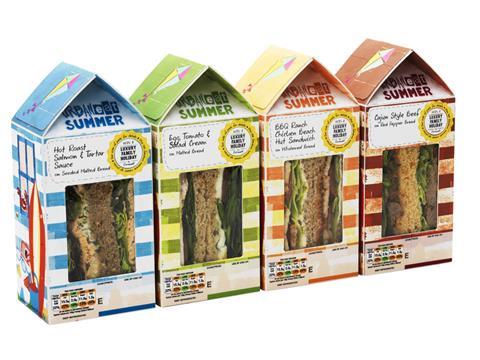 Top story
Urban Eat owner Adelie has run into problems in its pursuit of sandwich filling supplier Freshpak Chilled Foods.
The Grocer features an exclusive story this morning which raises questions over whether a deal will now complete.
Adelie, backed by private equity firm HIG, is believed to still be in discussions of some kind with the Barnsley manufacturer and its owner Irish investor Jaguar Capital. However, a potential private equity buyer is also said to still be in the running.
Jaguar appointed corporate finance boutique Spayne Lindsay in 2015 to secure a buyer.
As The Grocer reported in November, Adelie was close to completing the takeover before Christmas, but hit unexpected hurdles.
To read the full story click here.
Morning update
Waitrose sales were flat at £ 119.1m in the week ended 16 January, which would leave the retailer down on a like-for-like basis. Personnel director Helen Hyde said affordable fine dining combined with promotions to deliver "strong sales growth" across a number of categories last week, with more and more customers choosing from the premium range of "restaurant quality" ready meals. Cottage pie, beef bourguignon and fish pie were all up by 19%, while the shepherd's pie and lasagne dishes were up by 37% and 41% respectively.
Belgian retailer Delhaize has posted a strong fourth quarter update with sales up 14.2% to €6.32bn. The group also announced preliminary full-year EBIT of €870m. Frans Muller, president and chief executive officer, said: "In 2015, in line with our strategy outlined two years ago, we kept our focus on our customers and made good progress on our strategic initiatives. We recorded revenue increase at all our banners.
"We are also confident to maintain our sales trends in all our markets in 2016, driven by comparable store sales growth and expansion mainly in Southeastern Europe. Subject to final approvals, we are looking forward to bringing our operations with good operating momentum and a solid financial structure into a stronger and larger group as we complete the merger with Ahold on schedule by mid-2016."
AIM-listed spirits business Distil (DIS) has reported a 71% hike in revenues and a 31% rise in volumes in the three months to the end of December. The owner of the RedLeg Spiced Rum, Blackwoods Gin and Vodka, Blavod Black Vodka, Jago's Cream Liqueur and Diva vodka brands said the result was supported by a 96% increase in marketing. Executive chairman Don Goulding said: "Our brands continue to gain consumer following in major markets and we are delighted with the performance from new listings. Despite highly competitive market conditions over Christmas our brands grew in volume and revenue. We continued to increase our brand marketing investment to build consumer awareness and trial in support of wider availability to the consumer."
The FTSE 100 has started this morning where it left off yesterday, jumping more than 100 points (2%) so far to 5,885 points - and pushing almost all grocery and fmcg stocks up with it.
Yesterday in the City
After officially entering "bear" territory on Wednesday, with more than £50bn wiped off UK share prices following a stock market collapse in China, the FTSE 100 rebounded yesterday. The blue-chip index clawed back 100 points to finish almost 2% up at 5,774 points as European Central Bank chief Mario Draghi hinted at unlimited stimulus measures to boost the eurozone economy.
Most grocery and fmcg stocks rallied to get back in the black, led by Ocado (OCDO), which rose 6.4% to 281.9p.
Other risers included 2015 darling Fever-Tree (FEVR), up 4.2% to 576p, WH Smith (SMWH), up another 5.4% to 1,770p, and Poundland (PLND), up 3.8% to 150.5p.
Of the listed supermarkets Tesco (TSCO) and Morrisons (MRW) made respective gains of 1% to 154p and 0.9% to 155.3p, but Sainsbury's (SBRY) was one of the few stocks to fall, down 0.5% to 231.6p.
Premier Foods (PFD) was the faller of note for the day after it reported that branded sales were back in decline in the third quarter. Despite, a 6.5% rise in cakes and sweet treats sales as Mr Kipling and Cadbury performed well, a 2.7% drag in the grocery business saw total branded sales fall 1%. The supplier's share price took a hammering as a result – falling as much as 7% - to finish the day 6.7% down to 36.6p.