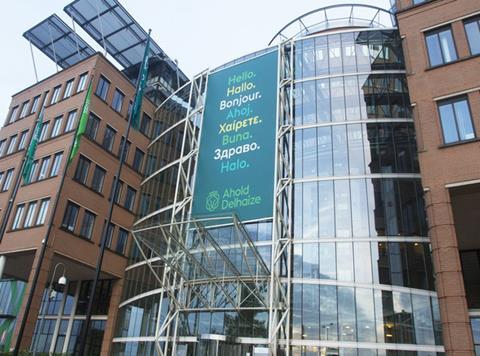 Top story
European food retail giant Ahold Delhaize has outlined a plan to make the most of its international scale following the merger, which includes doubling its online sales in the next four years and a €1bn (£850m) share buyback.
The group is in London holding a capital markets day for institutional investors and analysts to present its Better Together strategy.
Management reiterated the synergies stemming from the €9.8bn merger of Ahold and Delhaize was on track for €500m (£425m) in 2019, confirming this was in addition to the current profitability. Integration, which is set to cost €350m, was also on track and the group added that the underlying business was resilient.
The plan highlighted the importance of the online channel, with ambitions for doubling ecommerce sales from €2.3bn to €4.6bn (£3.9bn) by the end of 2020.
Ahold Delhaize will also give an update on local programs which continue to drive sales and improve price, assortment and service across its supermarkets.
It added the growth would include "rigorous cost discipline" with a commitment to a balanced approach between funding growth in key channels, managing the debt portfolio and returning cash to shareholders.
It targets a 40-50% dividend pay-out ratio based on pro-forma underlying income from continuing operations. In addition, in 2017 Ahold Delhaize will return €1bn through a share buyback program.
"Our 'Better Together' strategy will enable us to drive profitable growth and deliver the benefits of international scale, combining great local brands and local associate experience while driving savings and investments to benefit customers, and create value for shareholders," the group said.
CEO Dick Boer added: "We are excited to share our Better Together strategy, which builds naturally on our combined strong performance as well as the strong foundations of the local brands in our group.
"Guided by this common compass, we will continue to improve our family of brands to be a better place to shop, a better place to work, and a better neighbour, every day. We are meeting the needs of customers today and anticipating those of tomorrow, by providing more value, quality and convenience.
"Our integration is on track and we have a clear plan to deliver €500m in net synergies in 2019. We are convinced more than ever that our merger is the right combination at the right time. Driven by our purpose, we will continue to shape a stronger future for Ahold Delhaize, providing fuel for the brands to grow to the benefit of customers, associates, communities and shareholders."
The merger between Ahold and Delhaize completed in July, with the new group having combined sales of £62.6bn, more than 6,500 stores and about 375,000 staff serving more than 50 million customers every week in Europe and the US.
Morning update
It's a very quiet morning in the City for the grocery and retail sectors as we head into the key few weeks of the year.
The FTSE 100 has continued to show its resilience in the face of political turbulence in Europe, rising 1% this morning to 6,847.33 points.
Ocado (OCDO) has also had a strong start ahead of a Q4 update tomorrow, rising 2.4% to 271.8p. Tesco (TSCO), Morrisons (MRW) and Sainsbury's (SBRY) joined their online rival in the black, up 1.5% to 213.8p, 2.1% to 222.5p and 1.2% to 237.4p. Booker (BOK) is also up 1.1% to 172.7p.
Unilever (ULVR), Imperial Brands (IMB) and TATE & Lyle are all in the red, falling 1.4% to 3,092p, 0.8% to 3,377.5p and 0.3% to 663p.
Yesterday in the City
Real Good Food (RGD) suffered again yesterday as losses at the group widened in the first half. Shares crashed 9.3% to 34p and are now down more than 37% in 2016. Sales grew 5% in the six months to 30 September to £49m but volatile commodity pricing and adverse currency movements saw losses of £200k.
Hilton Food Group (HFG) had a better time of it, with shares up 4.3% to 612p after it announced plans to expand packing capability in Australia to supply leading retailer Woolworths.
Elsewhere Sainsbury's (SBRY, Booker (BOK) and Cranswick (CWK) all rose, up 1.2% to 234.3p, 1% to 171p and 0.6% to 2,195p respectively.
At the opposite end, Dairy Crest (DCG) fell 1.5% to 552p, B&M (BME) was down 1% to 241.7p and Tesco slipped 0.9% to 210.4p.