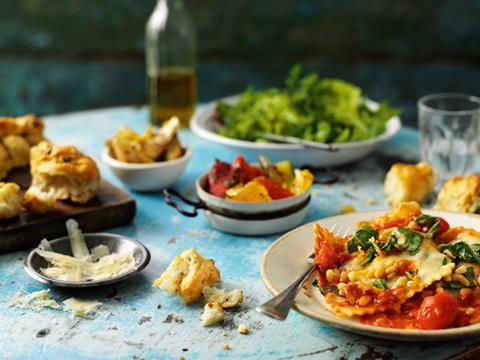 Top story
Bakkavor Group (BAKK) has withdrawn its financial guidance for 2020 after the coronavirus crisis impacted trading, with overall sales falling below expectations.
The sandwich and fresh prepared food manufacturer said the virus outbreak created "significant operational challenges", initially in China and then the UK and US.
In the UK - representing 90% of Bakkavor's adjusted EBITDA - the virus led to a reduction in orders across all categories, most notably salads and food-to-go products, in the US orders have reduced and the company is taking action to limit complexity in its ranges.
Meanwhile in China, where the outbreak had a "significant effect" in the early months of the year, the situation has now stabilised, Bakkavor added.
To mitigate the effects of the pandemic on its business, Bakkavor has implemented a series of measures including putting on hold all non-essential capital investment and discretionary expenditure, suspending the final dividend, and reviewing capacity across its facilities to "better match the current levels of demand".
The company will support impacted colleagues through the Job Retention Scheme introduced by the Government in the UK, while members of the board and management team have agreed voluntary reductions in remuneration for the coming three months, including the group's founders CEO Agust Gudmundsson and non-executive director, Lydur Gudmundsson who will not take any any salary in the period.
"Bakkavor is a resilient and cash generative business with a robust balance sheet, which has market leading positions in each of the categories it operates; we are responding to the impact of COVID-19 from a position of strength," the company said.
"While uncertainty related to COVID-19 remains, we will continue to prioritise our employees in their roles as key workers and support our customers in every way we can to ensure the continued supply of fresh prepared food. Looking further ahead, we remain confident that the strength of our business and strategy leaves us well positioned to achieve long-term sustainable growth within the attractive FPF sector."
The business has recently extended its core bank arrangements to 2024 and it currently has facilities in place of £562m.
Bakkavor shares opened down 0.6% at 98p.
Morning update
Pets at Home Group (PETS) has warned it expects the coronavirus outbreak to have a "negative impact" on turnover in its recently started new financial year.
The petcare retailer - deemed by the government as an "essential retailer" - benefited for the virus outbreak in the final weeks of its financial year ended 26 March as it experienced "exceptional levels of demand", both in store and online, after customers increased average basket size by pulling forward purchases.
As a result, Pets at Home guided for full-year underlying pre-tax profit to be "slightly ahead of expectations".
In the new year however, the company anticipates a reduction of customer revenues after having closed its Groom Room salons and implemented social distancing measures.
CEO Peter Pritchard said: "While FY20 has undoubtedly ended strongly for Pets At Home during this unprecedented time, the period ahead is uncertain for us all, and Pets At Home will not be immune to these challenges that we collectively face.
"I am extremely grateful that our colleagues and operations have shown such resilience and flexibility to meet the recent exceptional level of demand from both existing and new customers. As ever, in difficult times consumers turn to trusted brands and advice, and that is why we are working tirelessly to ensure that we continue to provide essential products and healthcare services for the UK's pets.
"Amidst an unprecedented backdrop, never has our role as a pet care provider been more important, and never have we been more determined to serve the nation's pet owners."
The company did not provide financial guidance for FY2021 at this time.
Pets at Home shares opened down 0.6% at 238.60p.
PZ Cussons (PZC) has announced it will not make any payment to former CEO Alex Kanellis after it emerged he effected a number of cash withdrawals and payments over a number of years indicating "behaviours inconsistent with what would be expected of a senior member of management".
Kanellis retired at the end of January, but after announcing his retirement, the company was made aware of the cash withdrawals and payments which had previously not been disclosed to the board.
PZ Cussons then launched an independent investigation, led by external law firm Addleshaw Goddard LLP, which allowed the board "to conclude that Kanellis' conduct fell short of that which could reasonably be expected from the chief executive officer and constituted repeated breaches of his duties as a director of the company".
PZ Cussons shares opened up 1.1% at 186.20p.
Domino's Pizza Group (DOM) has appointed Neil Smith as interim chief financial officer with effect from 15 April.
Smith is a "highly experienced CFO", having most recently held the role at Ei Group from 2011 until its recent takeover by Stonegate Pub Company. He has also served in senior finance roles in Compass Group, Virgin Media and Telewest.
His appointment follows the death of the group's previous CFO David Bauernfeind in December 2019.
Domino's shares opened up 0.4% at 290.20p.
The FTSE 100 opened up 0.6% at 5,485.36pts.
Early risers saw Ocado (OCDO) open up 3.3% at 1,373.50p, FeverTree (FEVR) up 2.5% at 1,179p and Premier Foods (PFD) up 5.7% at 24.90p.
Fallers included Greggs (GRG) down 1.3% at 1,546p, C&C Group (CCR) down 1.3% at 187p and Associated British Foods (ABF) down 0.4% at 1,746.50p.
Yesterday in the City
The FTSE 100 closed down 3.8% at 5,454.57pts.
Fallers included Cranswick (CRW) down 5.5% at 3,496p, Britvic (BVIC) down 5.8% at 661p and Tate & Lyle (TATE) down 5.3% at 621.40p.
Risers saw Ocado (OCDO) close 9% higher at 1,329.50p, British American Tobacco (BATS) up 3.5% to 2,856.50p and Imperial Brands (IB) up 2.2% at 1,530p.