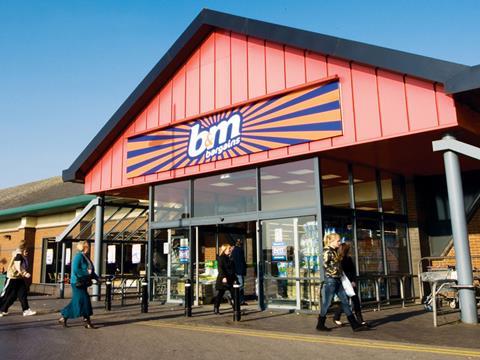 Top story
Listed value retailer B&M Bargains (BME) has reported another period of soaring growth in a strong spring trading update.
Group revenues for the 13 weeks ending 27 June increased by 24.4% to £456.6m, with like-for-like growth of 1.1%. It represented a slowdown, however, when compared to the same period a year ago when the business grew sales by 31.9% and like for likes by 6%.
B&M said the positive like-for-like performance in the first quarter was a testament to the "robust and balanced nature of the business model", as it was achieved amid soggy conditions in a wet May which held back sales of outdoor seasonal products.
The group added that it also delivered positive like-for-like growth in the grocery and fmcg products category, despite the deflationary backdrop and competitive market conditions.
"I am pleased to report that the group has delivered another strong spring trading period," CEO Simon Arora said. "We have opened 25 stores in just 13 weeks, which is a record rate of openings, and testament to the hard work and dedication of our colleagues. As consumer spending improves, it is apparent that shoppers remain keen to spend with value retailers and we continue to win market share."
Particularly favourable current market conditions and specific opportunities in the commercial property market meant the UK business expected to open 80 net new stores in the current financial year, with a "strong pipeline" for FY2016-17. B&M now has 450 stores in its UK portfolio and has set itself a target to reach 850.
"We remain confident that future store expansion opportunities will allow us to increase market share in both the UK and Germany," the business added.
Shares in B&M, which is listed on the London Stock Exchange as B&M European Value Retail, jumped 10p on opening to 350p before settling back to 2.2% up at 347.6p. It represents a 77p premium to the 270p float price back in June 2014 and makes the company worth £3.47bn.
Morning update
Marks and Spencer (MKS) head of general merchandise John Dixon has quit the high street chain to "pursue career opportunities outside of the company". Current director of food Steve Rowe will step into his shoes, making him a clear favourite to succeed CEO Marc Bolland when the time comes. Andy Adcock, currently trading director for food, will step up to take on Rowe's director of food role reporting to Bolland on an interim basis.
Dixon has spent 29 years at the retailer, and has been credited as the architect of the recent work to boost profit margins. However, the first rise in general merchandise sales for four years in the fourth quarter was short lived as M&S reported earlier this month that clothing and homeware figures had slipped again in the past three months.
Bolland said: "On behalf of the team and all our colleagues at M&S, I would like to thank John for his contribution to the business. I am delighted to appoint Steve to the role of executive director, general merchandise. Steve has outstanding experience working across the business and is well placed to take the general merchandise business forward. I look forward to continuing to work closely with him."
M&S' stock fell 1.2% to 539.5p on the back of the news as the markets opened. The Grocer will have full coverage of the news later this morning at thegrocer.co.uk.
Another warm week helped Waitrose's weekly sales figures as summer food, drink and non-food "thrived" amid the start of The Ashes and the end of Wimbledon. Total divisional sales (excluding petrol) were 4.4% higher in week 23 at £126.5m, compared with the same period last year.
Yesterday in the City
Finsbury Food Group (FIF) was yesterday's biggest mover in share price terms following a pre-close trading update in which the bakery and cake supplier said it would outperform its current EBITDA and profits expectations. Revenues at the group grew 45.8% on 2013-14 to £256.2m, with the lion's share of the hike coming from the acquisition of Fletchers. Its stock was as much as 6.8% up on the morning and spent the majority of the day above 6% before closing 6.3% higher at 92.5p.
Shares in French supermarket giant Carrefour (CA) also rose 2.6% to €30.92 thanks to continued sales growth in its second quarter. An "excellent" performance in Latin America and accelerating sales in Spain pushed revenues between April and June up 4.2% to €21.4bn – excluding currency and petrol, organic growth came in at 2.6%.
Fellow French group Casino also benefitted from positive second quarter results, climbing 3.5% to €71.43 as a standout performance from its ecommerce business contributed to gross merchandise value rising 25.8% at constant exchange rates.
Hilton Food Group (HFG) made up big falls in its share price over the course of the day. Its stock plunged 7.9% to 430.5p when the markets opened on the back of a trading update. It stabilised as the day wore on to trade around 2.9% down and closed just 1% behind at 462.8p. The meat packaging business, which supplies Tesco, warned of challenging consumer conditions in some countries and currency headwinds caused by a strong pound hitting its results.
The day's fallers included McColl's Retail Group (MCLS), Majestic Wine (MJW) and Ocado (OCDO), which fell 3.6% to 156p, 1.5% to 405.8p and 1.2% respectively.