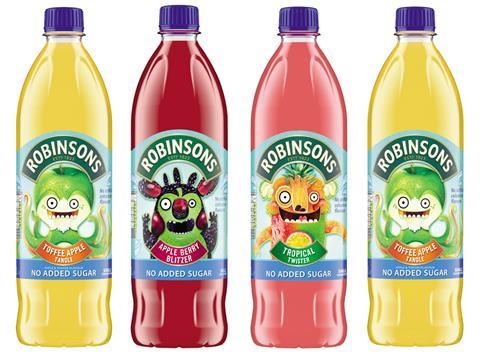 Top story
Sales have fizzed 10.1% higher at Britvic (BVIC) as its UK portfolio of carbonated soft drinks, including PepsiCo brands, delivered growth to offset declines for the Robinsons range.
The business sold a total of more than 2.3 billion litres of soft drinks across the world in the 53 weeks ended 2 October, an increase of 12.3%, but at a lower price than the previous year, with average prices down 3.3% to 59.2p.
In the UK, Britvic said its continued focus on no and low sugar resulted in growth for Pepsi Max, 7UP and Tango – which contributed its best performance in 10 years – with carbonates sales up 5.3%.
A better summer than a year ago helped the business in its final quarter in Britain and Ireland, with like-for-like quarter four revenue up 5.7% year on year.
However, the group struggled in the UK stills division, with annual sales down more than 7% after consumers failed to switch to the new formulation of Robinsons when Britvic removed the added sugar range in 2015.
Total group revenues climbed to £1.4bn thanks to the Brazilian squash manufacturer Ebba, which Britvic acquired for £114m in July 2015, being included in the full-year results for the first time, contributing £90m.
Like-for-like sales were up just 0.4% on a year ago to £1.3bn.
Underlying profits, before exceptional costs, rose 8.4% to £186.1m and 3.8% on a like-for-like basis.
CEO Simon Litherland warned that 2017 was set to be a challenging year due to the uncertainty created by the EU referendum and the proposed soft drinks levy.
"We are confident we will mitigate inflationary input costs through a combination of revenue management activities and internal cost saving initiatives," he said. "The new financial year has started well and although 2017 will be another challenging year, we expect to deliver pre-exceptional EBITA in line with current market expectations."
He added: "Britvic has delivered another strong set of results in challenging market conditions. In our core markets, we continued to take market share with a particularly strong carbonates performance. Internationally, we have had an excellent first year in Brazil and Fruit Shoot continued to grow in France, USA with the launch of multi-pack, and latterly in Brazil following its recent launch in Sao Paulo."
After falls yesterday (see below), Britvic shares have stormed 5% higher this morning to 575.5p.
Morning update
Growing fears about the health of the UK economy saw consumer confidence slump again this month. The long-running GfK index fell five points in November to -8 and also registered decreases in all the categories it measures.
"The slump across the board this month points to continuing uncertainty about the state of the economy among consumers," said Joe Staton, head of market dynamics. "Although scores for our personal financial situation just about remain positive, the big theme is the reduced confidence in the UK economy looking back and ahead."
Consumers were less confident of their personal financial situations over the past 12 months and into the next, with the index dropping two and four points respectively, albeit just about remaining in positive territory.
However, sentiment about the general economy looking back and ahead plunged another six and five points to -25 and -22.
"We are viewing our economy over the past 12 months with increasing despondency," Staton added. "The decreasing score on the economy for the next 12 months also shows we are resolutely gloomy about the outlook despite strong GDP numbers. The 'next 12 months' figure has been low since the June vote to leave the EU as ongoing economic turmoil, inflationary pressures and global anxiety impact our levels of confidence."
The gloomy mood was also affecting spending intentions, with a sharp nine-point drop in the major purchase index to five points.
"This will be an acute concern for retailers as they gear-up for the key Christmas selling period," Staton said. "Many are saying that fears about the British economy have been overstated, but time will tell if the pessimism shown in the index is misplaced or not."
Yesterday in the City
Cranswick (CWK) shares closed 1.4% up at 2,317p after the pork supplier reported a 16% jump in first-half revenues to £581m on the back of strong volumes and new contracts at the sausage and cooked meats businesses.
SSP Group's (SSPG) share price took off thanks to a 5% jump in full-year revenues to £1.9bn as air passenger numbers grew. The group, which operates concessions in airports and train stations, also boosted underlying operating profits 18%. The stock climbed 8.3% to 370.3p as a result.
Shares in Crawshaw (CRAW) rose 4% to 23.4p, but it was down from the 6% jump in the morning. The rise came after management said the turnaround strategy was starting to show results. The stock crashed more than 40% following a September trading update reporting a slowdown in trading.
Ocado (OCDO), WH Smith (SMWH) and Morrisons (MRW) were also among the day's risers, up 2.3% to 276.6p, 1.2% to 1,502p and 1% to 220.1p.
The FTSE 100 slid 0.4% to 6,772 points ahead of the key vote in Italy at the weekend and a slump in oil prices ahead of the OPEC meeting.
Britvic (BVIC) dropped 2.6% to 546.5p ahead of this morning's results. Tesco (TSCO) was also down 1% to 207.5p.