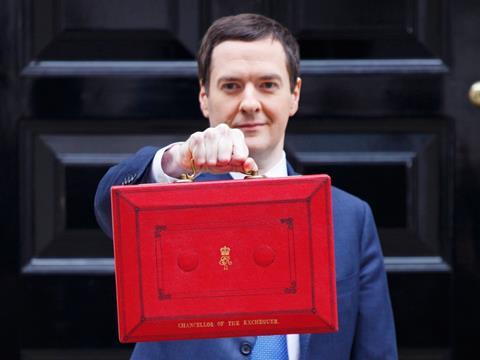 Top story
Chancellor George Osborne will fire the gun today on the Conservative election campaign as he aims to hand out a few treats to soften up voters with a possible relaxation of public spending cut and increases to personal tax allowance.
The EY Item Club has estimated a better economy had the potential to reap an annual windfall of up to £10bn by 2020, giving Osborne the headroom he needs to fund a promised tax cut and provide a sweetener to the electorate before they head to the polls in May.
But what has the man with the red box got lined up for business, and specifically those in the grocery industry?
· Business rates
The Budget will contain plans for a much talked about and promised review of business rates, which would be the biggest rethink "in a generation", as Osborne looks to stop the alarming decline of shop closure on the British high street.
· Tobacco levy
The Chancellor is looking at introducing a new levy on cigarette companies to bring in more money for the Exchequer and make smoking more expensive.
· Beer duty
In what would be a double whammy as an easy pre-election crowd pleaser for both shoppers and business, Osborne is likely to make a move on alcohol duties, with a freeze or even a cut to the tax. It would be the third year running that beer duty had fallen, with the industry crying out for more relief. The whisky crowd will also be hoping to get in on the act, too.
· Minimum wage
The government has already confirmed the Low Pay Commission's recommended increase to the National Minimum Wage to £6.70 an hour yesterday ratcheting up the pressure for the retail industry to get involved in the debate over pay.
Morning update
WPP CEO Sir Martin Sorrell has confirmed his interest in acquiring Tesco's data company Dunnhumby following speculation the group was lining up a bid worth $2bn. Sorrell admitted he was an interested in the business behind the retailer's Clubcard loyalty scheme at the Enders Analysis conference in London yesterday. Tesco appointed Goldman Sachs in January to explore options for Dunnhumby as part of Dave Lewis' turnaround plans.
Israeli-headquartered Frutarom has completed another acquisition, its second in as many months, as it agreed to buy Belgian company Taiga International for $2.9m. Taiga, established in 1992, develops flavours for the food, beverages and tobacco industries. It has 14 employees and serves a customer base extending from Europe to North America from its site in Belgium. In 2014, Taiga's sales amounted to $4.9m. It follows the multinational ingredients company buying Midlands-based flavours company FoodBlenders in February for £1.6m.
Yesterday in the City
Tesco (TSCO) and Morrisons (MRW) were in the top fallers of the FTSE 100 yesterday as UK grocery had a bad day all round. After making gains on Monday as the retail sector received a boost as the government launched a "radical" review of business rates, shares in the two supermarkets fell by 1.7% to 237.2p at Tesco and 2.2% to 201.3p at Morrisons.
Sainsbury's (SBRY), which was one of the most heavily traded stocks on the blue-chip index, lost momentum throughout the day after early rises. It ended the day 0.8% down to 266.4p after it revealed its fourth quarter like-for-like sales drop was not as bad as analysts had feared. However, it was the retailer's fifth straight quarter of declining underlying sales and investment bank Jefferies cut its target price following the update.
McColl's Retail Group (MCLS), Majestic Wine (MJW), Ocado (OCDO) and Marks & Spencer (MKS) also all registered falls, down 3.8% to 170p, 1.2% to 337.3p, 0.7% to 368.4p and 0.2% to 505p respectively.
Fyffes (FFY) and Coke bottle Coca-Cola HBC (CCH) were among the riser of the day, up 4.2% to 87p and 2.2% to 1,146p.
The FTSE 100 edged up during the day to rebound from last week's lows, with energy stocks leading the recovery. London's leading shares climbed 0.5% to 6,837.6 points.