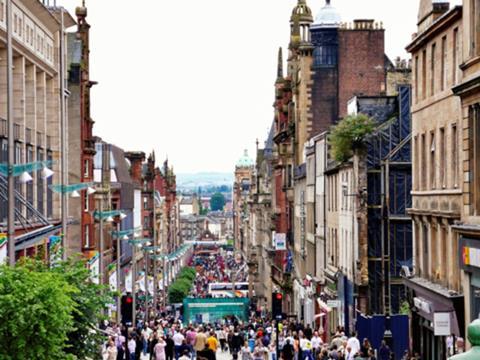 Top story
UK consumer confidence fell for the second month running in October as shoppers continued to worry about the country's ability to escape global economic uncertainty, a survey by GfK has shown.
The monthly consumer confidence index by the market research organisation slipped another point to +2 this month. It follows the score falling four points to +3 in September as the Chinese downturn weighed heavily on consumers' minds.
Three of the five measures used to calculate the index saw decreases in October (general economic situation was down two points to -5, major purchase index was down seven points to +7 and savings index decreased one point to +2), one went up (personal financial situation for the past 12 months increased by three points to +4) and the other one was unchanged (personal financial situation for the next 12 months).
"While belief in our personal financial situation for the next 12 months remains strong, growth in the top-line index has again stalled this month," Joe Staton, head of market dynamics at GfK, said. "The good news on the domestic front – with households lifted by wage growth, low interest rates and near-zero inflation – is being tempered by concerns about our ability to shrug off the global downturn.
"Upwards momentum in the index is also being dragged down by consumer worries about the past performance of the UK economy and expectations for the economy in the year to come."
Despite this month's slip, the overall index score has remained positive over 2015 in marked contrast to the lows reached between mid-2007 and early 2014 during the depths of the recession.
Morning update
Revenues at AB InBev (ABI) grew by 7.9% in the third quarter of 2015, with solid revenue per hectolitre growth of 6.3%. The Budweiser brewer said the performance was driven by its revenue management and premiumisation initiatives. It took sales in the first nine months of the year 6.1% higher than at the same period in 2014. Total volumes grew by 1.5% in Q3, with own beer volumes up 2.3% and non-beer volumes down 6.1%. The growth was mainly the result of strong performances in Mexico and Latin America North, as well as easier comparatives in the US.
Steve McAllister, president – AB InBev UK & Ireland, said: "We have seen a strong Q3 performance in the UK, with double-digit growth across our global brands driven by the off-trade channel. We are also pleased with our market share performance in this quarter and in the year to date, driven by successful Stella Artois, Corona and Budweiser activations."
An autumn customer marketing campaign has helped lift sales 4.1% year on year (excluding fuel) to £125.22m at Waitrose in the week ending 24 October. The launch of waitrosekitchen.com also contributed to the rise, with more than 3,000 cooking utensils, gadgets and kitchen equipment sold. Commercial director Mark Williamson said the site had performed well in its first week and traded above forecasts. He added that total online sales increased by 24%, supported by a customer promotion.
On the grocer.co.uk today the finance channel features an exclusive interview with 2 Sisters CFO Steve Leadbeater giving more details on the £150m investment in the poultry division and the food giant's focus on the bottom line.
There is also a further look at the unfortunate collapse of own-label ethnic ready meals maker S&A Foods. Administrators at Deloitte remain hopeful that they can find a buyer for the 164,000 sq ft production facility in Derby but that won't do much to cheer the majority of the 300-strong workforce who have already lost their jobs.
Ocado continues its charge (see below) this morning with shares soaring another 3.3% to 394.1p. Shares in the Belgian brewing group are up 2.1% so far this morning to €109.75 after its Q3 update. Elsewhere, the FTSE 100 has opened slightly down at 6,386.68 points and Morrisons (MRW) has slipped another 1.1% to 169.7p ahead of next week's Q3 numbers. Sainsbury's is also down 1% to 266.7p and Tesco completes the listed grocers' misery, down 0.3% to 185.1p.
Yesterday in the City
Ocado (OCDO) investors enjoyed another bumper day yesterday with the online grocer's stock rocketed almost 6% to 380p. It puts the stock at 13.8% up since last Friday. There has been no news flow from the business to push up the price but a second-quarter Amazon conference call last week seems to be one of the main drivers. In the call, the online behemoth gave no indication it was preparing to launch its Amazon Fresh business in the UK market any time soon, which is surely cause for celebration of everyone linked to Ocado. London & Amsterdam Trust Company, the vehicle of hedge fund manager Nick Roditi, also snapped up a million more shares in the group to take its stake to 13.1%, which was also a contributor to the boost.
Tesco (TSCO), Sainsbury's (SBRY) and Morrisons (MRW) had more mixed days. Tesco finished 0.9% lower at 187.1p, while Sainsbury's was flat at 269p and Morrisons slipped back slightly by 0.1% to 171.9p.
European equities in general fell back after the US Federal Reserve, which has been in the depths of a two-day meeting, hinted it could raise interest rates in December. Missed profit forecasts from Barclays and Shell also combined with investor uncertainty to wipe off most of yesterday's gains for the FTSE 100. The blue-chip index stalled by 42points (0.7%) to 6,395.8.
In terms of fmcg, Unilever (ULVR) slipped 1% to 2,932p and Heineken fell back 0.6% to €82.88.
Cider maker C&C group (CCR) lost more ground after its disappointing first half on Wednesday. The Magners and Bulmers owner slipped another 0.9% to €3.60 – taking losses for the week to almost 7%.
Associated British Foods (ABF) managed to avoid the malaise and once again finished as one of the FTSE 100's best performers. It was up 1.3% to 3,513.5p.