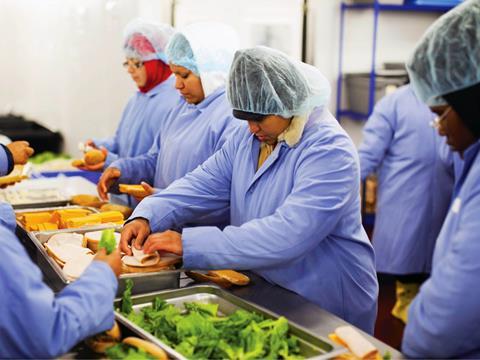 Top story
Greencore (GNC) has reported a 6.2% increase in third quarter revenues after strong US growth and increased convenience sales.
The group reported revenues of £346.5m in the 13 weeks to 26 June 2015, an increase of 6.2% on the prior year on both a reported and a like for like basis.
In convenience foods it saw revenues of £331.9m, 6.9% higher than the prior year and up 6.3% on a like for like basis.
In the UK, like for like revenue was 4% higher as its food to go business continued to expand, though elsewhere performance was "more subdued". In the US, like for like revenue was 22.1% higher than the prior year, driven by the roll out of new lines with its principal customers.
For the first three quarters of the year, revenues are 4.2% ahead of the prior year on a reported basis and 4.7% ahead on a like for like basis.
However, Greencore said: "The core UK grocery retail market remains challenging with high levels of change. The combination of modest deflation in ingredients and packaging costs, together with price investment by grocery retailers, has resulted in value growth lagging behind volume in a number of our product markets."
It remains confident of delivering adjusted earnings per share growth for the financial year within the range of market expectations.
Morning update
Listed newsagent group McColl's (MCLS) has reported a first half 2.4% revenue boost to £459.3m this morning, but falling like-for-like retail sales. A 4.7% like-for-like fall in newsagents and standard convenience stores led to a 1.9% overall fall in like-for-like sales in the 26 weeks to 31 May. Sales in food, wine and premium convenience were level with last year.
Operating profit before exceptional items was down slightly to £9.6m from £10 last year, but McColl's reported profit before tax of £7.6m after recording a £4m loss in the period last year. During the first half it acquired 25 new stores and converted 16 newsagents to food & wine format stores, to give it 837 convenience stores and 496 newsagents.
James Lancaster, chief executive, said: "I am pleased to report a solid financial performance in what has been a very challenging period for the sector. Over the past 12 months we have continued to make good progress on our strategic objectives and focussed on improving our range and offer, increasing our store base and streamlining the business.
"Whilst overall like for like sales were down 1.9%, sales have held up in those of our stores that have benefitted from conversion to either premium convenience or food and wine formats. This demonstrates the strength of our business development strategy and we will continue to grow market share in our convenience offering."
Elsewhere, Diageo (DGE) has restructured its South African and Namibian operations. It will effectively dissolve its joint ventures with Heineken and Ohlthaver & List and will operate in the country through wholly owned subsidiaries. It is selling its stakes in DHN Drinks, the Sedibeng brewery in Gauteng and NBL, while acquiring the remaining shares in Brandhouse Beverages. Diageo will receive a total net cash consideration of ZAR2.5bn (approximately £128m) for the deals.
Ivan Menezes, chief executive, commented: "We have worked very successfully with Heineken and NBL throughout our partnership, growing the beer business and establishing market leadership in spirits. From this leadership position we now believe that Diageo has the necessary scale to move to the next stage of growth for spirits, RTDs and our beer and cider portfolio in a focused, simplified ownership structure."
This morning this FTSE 100 has already rebounded 0.6% to 6,541.7pts. Greencore is up 0.5% to 320.2p, McColls up 1.3% to 160p. The morning's biggest riser so far is Reckitt Benckiser, which is up another 1.4% to 6,075p on top of yesterday's gains.
Yesterday in the City
Another fall in the FTSE yesterday has wiped out all the previous gains the index had made in 2015, as the FTSE 100 closed 1.2% down to 6,500.5pts after reacting to falling stocks in China and poor investor sentiment for companies including Merlin and Pearson.
One of the few major grocery stocks to keep its head above water was Reckitt Benckiser (RB), which rose 1.4% to 5,993p yesterday after it reported first half revenues up 1% to £4.36bn and increased its full-year earnings forecast.
Cranswick (CWK) was also up 2.3% to 1,636p after it reported sales in the first quarter up 8% on the same period 12 months ago. Fever Tree (FEVR) added 1% to 369.5p after its sales grew 62% in its first half, with adjusted EBITDA rising 68% on the same period a year ago to £7.2m.
Elsewhere it was largely a downbeat day, with Diageo down 2.2% to 1,819.5p and Tesco, down 214.3p amongst those worst hit. Also trending down were Associated British Foods (ABF), falling 1.9% to 3,119p, Imperial Tobacco (IMT), down 1.9% to 3,244p.
Outside the FTSE 100, Ocado (OCDO) was down 3.5% to 395.8p and Britvic (BVIC) fell 2.9% to 694p.