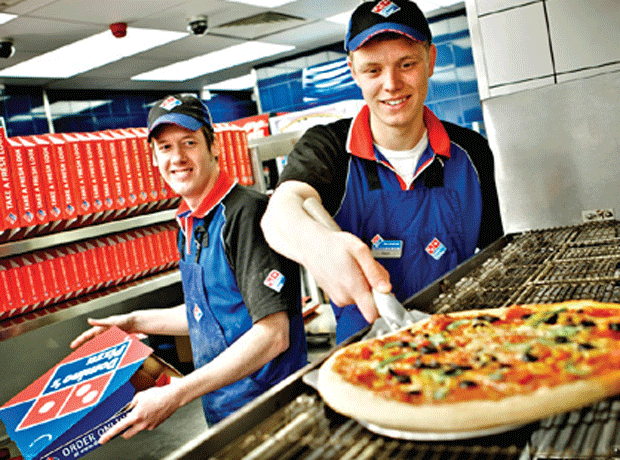 Top story
Domino's Pizza Group, the UK-based master franchise business, has announced that a full-year increase in sales, revenue and profits, but net debts has grown in its preliminary financial statement.
The group posted a spike in system sales of 15.1%, rising to £1.2bn to December 24 last year, in comparison to £1bn up to the same period in 2016.
Overall, total revenue grew to £466.5m up December 24 last year, a significant uptick of 29.3% in comparison to the corresponding period in 2016, where revenue reached £360.6m.
Profit before tax jumped by 10.2% from £85.7m to £94.4m up to Christmas Day, with pre tax profit increasing further to £92.6m up to December 31.
Yet there only a slender 0.2% rise in profit after tax, rising to £65.3m from £65.2m.
The statement also highlighted an surge in net debt, which has escalated to £89.2m up to New Year's Eve last year , a rise from the £34.6m posted at the end of 2016.
In the UK there was an easing of year on year system sales growth, which slowed down to 4.8% last year, from 9.8% the previous year.
The strategic highlights included record investment into UK to support long term growth potential, with a new facility opening in Warrington this spring.
Franchisee profitability was maintained at 2016 level, resulting in a record 95 new UK store openings.
Internationally there is set to be expansion with £20.1 million of investment, with majority owned Domino's businesses in Iceland, Norway and Sweden, providing long term growth potential.
There will also be an estimated 65-75 store openings in the UK, with £30m allocated for capital expenditure, upon the completion of the Warrington store roll out.
UK system sales in the first eight weeks of 2018 were up 10.9%, or 7.1% on a like-for-like basis.
CEO David Wild said: "2017 has been a year of significant progress for Domino's, despite the weaker consumer demand and cost inflation affecting the sector. Given this backdrop, I am particularly pleased with our performance. In the UK, system sales broke through £1 billion for the first time, helped by a record 95 new store openings"
"The market continues to be competitive but the strength of our brand and scale, combined with the expertise of our franchisees, are important competitive advantages in delivering quality, convenience and value to customers. We continue to take share in the pizza delivery market, and the investment in our new supply chain centre in Warrington will leave us well placed to meet our ambition to get to at least 1,600 sites. I remain confident in the long term growth potential of the business."
Morning update
Agri services group Origin Enterprises (OGN) has announced a modest rise in group revenue for the six month period up to January 31 last year, rising to €587m from €564.4m for the same period in 2016.
Operating profit was 12.5% higher at €2.3m, with the total group profit reaching €4m, again a modest rise from the previous year's figure of €3.8m.
Pre tax losses eased last year to €31k from €64k the year before.
Group net debt did increase, jumping up to €171.3m from €162.6m.
CEO Tom O'Mahony said: "Origin has achieved a good first half result with favourable activity levels on farm supporting a 12.6 per cent increase in Group operating profit in the seasonally quiet trading period.
"The acquisition of Belgium based Pillaert-Mekoson in the period scales our market position in Continental Europe and provides further buy and build consolidation and growth opportunity.
"We continue to prioritise new growth opportunity in Agri-Services while focusing on cash generation, operational and commercial effectiveness. The autumn and winter cropping profile established to date provides a solid foundation for the seasonally more important second half when over 90% of earnings are typically generated."
Meanwhile, Origin has announced the appointment of Rafal Prendke as CEO of its continental European division.
On the markets this morning, the FTSE 100 is flat at 7,160pts.
Investors have received news of Domino's results positively, with the stock up 5.2% so far this morning at 334.5p.
Other risers include Britvic (BVIC), up 5.9% to 722.5p, Glanbia (GLB), up 1.9% to €14.64, Nichols (NICL), up 1.9% to 1,530.5p and Associated British Foods (ABF), up 1.5% to 2,623p.
Fallers include Stock Spirits (STCK) again after yesterday's falls, Ocado (OCDO), down 1.3% to 557.2p and McColl's (MCLS), down 1.2% to 248p.
Yesterday in the City
The FTSE continued its steady recovery despite President Donald Trump's trade threats, rising another 0.2% to 7,157.8pts on Wednesday.
Just Eat (JE) rose 3.2% to 768p yesterday to being its own recovery from a 13% share plunge on Tuesday after a shock writedown caused an annual loss.
Stock Spirits Group (STCK) was down 4.1% to 270p as a jump in full-year sales was negated by a decline in profits amid tough trading conditions in its key market of Poland.
Risers yesterday included Ocado (OCDO), up 2.2% to 564p, Coca-Cola HBC (CCH) up 1.9% to 2,459p, Unilever (ULVR), up 1.3% to 3,788.5p and Greggs (GRG), up 0.9% to 1,214p.
Also on the up were Devro (DVO), up 3% to 207p, PureCircle (PURE), which itself announced a double-digit rise in annual sales on Tuesday, up 2.2% to 427.5p and McBride (MCB), up 1.6% to 154.8p.
Fallers included Majestic WINE (WINE), down 1.2% to 440p, Glanbia (GLB), down 1.5% to €14.37 and Greene King (GNK), down 1.1% to 484.7p.
Also falling were Dairy Crest (DCG), down 0.9% to 537p, Britvic (BVIC), down 0.7% to 682p and B&M European Value Retail (BME), down 0.7% to 420.7p.