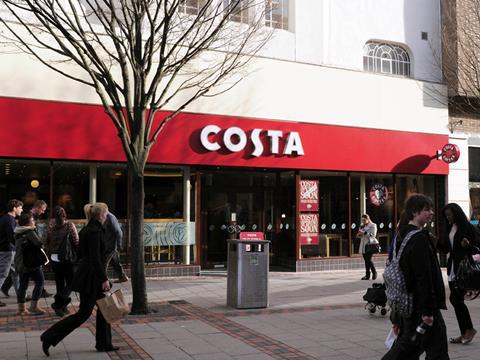 Top story
Costa Coffee owner Whitbread (WTB) has reported an 11.3% boost to revenues partly thanks to strong growth across the coffee chain.
The Premier Inn owner saw double digit revenue growth in the six months to 27 August to £1.44bn, while underlying profit was up 13.8% to £291.3m.
Costa's total sales grew by 16.2% and UK like for like sales were up 4.4%. Costa's underlying operating profit was up 28.4% to £67.3m.
It said it would invest a further £700m this year opening another 220 net Costa stores worldwide and 5,500 net UK hotel rooms.
Chairman Richard Baker said: "Whitbread has produced another good set of results, demonstrating the strength of the Premier Inn and Costa brands. We are on track to deliver our growth milestones and will continue to invest in our people, our customer propositions and our systems to deliver profitable growth for our shareholders."
Morning update
Private label goods manufacturer McBride (MCB) has updated the market on its trading from 1 July 2015 to 30 September ahead of its AGM this morning.
It said it has made a "solid" start to the year, with first quarter trading in line with expectations – constant currency revenues are "slightly ahead" of last year's first quarter numbers. Chief executive Rik Do Vos said: "We continue to deliver the restructuring projects established in the past two years and we are now embarking on the key early actions in the "Repair, Prepare, Grow" strategy. It is encouraging to see the engagement of the wider McBride team with the key initiatives that are now underway."
AIM listed Ukrainian agriculture firm MHP has issued its third quarter results this morning. In the nine months ended 30 September poultry production increased by 6% to 142,295 tonnes and sales volumes were up 4%. Sunflower oil volumes were 4% lower than in Q3 2014 and the average price of US$801 per tonne in Q3 2015 was 5% lower than last year.
Grocery market share figures are scheduled to be released later this morning by Nielsen and Kantar Worldpanel.
The FTSE 100 has edged up 0.2% to 6,361.9pts in early trading this morning.
Whitbread shares are 2.2% higher at 4,828p so far this morning, while McBride has slipped 0.3% to 164.5p.
Yesterday in the City
The FTSE 100 has a quiet start to the week, slipping 0.4% to 6,352.3pts yesterday, dragged back by mining stocks.
The supermarkets also had a pretty downbeat start to the week – Tesco (TSCO) falling 1.7% to 193.6p, Morrisons (MRW) down 1.1% to 172.9p and Sainsbury's (SBRY) down .05% to 263.6p.
Dairy Crest (DCG) was boosted by 1.5% to 613p after the CMA finally gave the regulatory green light for the sale of its loss-making milk business to Muller.
In Paris, Danone rose 2% to €59.41 after it beat forecasts with like-for-like sales rising 4.6% in the third quarter. In Germany, Metro Group (MEO) gained 2.5% to €27.54 after increasing its like-for-like sales in its 2014-15 financial year by 1.5%.
Elsewhere, Premier Foods (PFD) jumped 3.8% to 34.25p, McColl's (MCLS) was up 2.4% to 150p and Booker (BOK) gained 2.7% to 182.3p.