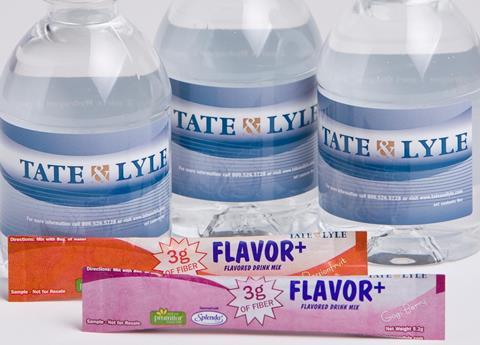 Top story
Sweetener producer TATE & Lyle (TATE) has reported a 5% increase in adjusted profit before tax after a year of major restructuring at the sucralose supplier.
Adjusted profit before tax for continuing operations rose 5% to £193m (1% higher in constant currency). Adjusted profit before tax was £67m than the statutory reported profit before tax of £126m, largely as a result of net exceptional costs in the year of £50m primarily related to restructuring.
During the year, major structural change initiatives included the re-alignment of the Eaststarch joint venture in Europe, the restructuring of the Splenda Sucralose business, and the expansion of capacity for Speciality Food Ingredients.
Tate & Lyle said that its expects to recognise further modest exceptional costs in relation to the completion of its group-wide restructuring in the 2017 financial year, but now expects the total cost to be below the level of £185m announced in April 2015.
Group sales of £2.4bn were 1% higher than the prior year, but 3% lower in constant currency reflecting the pass through of lower corn prices.
Speciality Food Ingredients sales were up 4% at £897m (2% higher in constant currency) and bulk ingredients sales were 1% lower at £1.5bn (6% lower in constant currency).
Javed Ahmed, Chief Executive, said: "This has been a year of solid financial performance and strong project delivery. Both business divisions delivered margin expansion and we completed the major structural change initiatives needed to further strengthen the business and drive higher quality earnings. We also made progress against the 2020 Ambition we outlined in November 2015.
"Turning to the outlook for the 2017 financial year, subject to currency movements, we are confident the Group will continue to make progress in line with our plan and towards our 2020 Ambition."
Tate & Lyle is up 1.6% to 624p so far this morning.
Morning update
First up on the busy morning is full-year results from B&M Bargains owner B&M European Value Retail (BME).
B&M saw revenues top £2bn with reported revenues up to £2.04bn from £1,65bn last year, representing an increase of 23.6% and 24.3% on a constant currency basis. In the UK, revenues increased by 24.7% to £1.9bn, principally driven by the new store openings.
There were 74 net new store openings in the year, with 79 new stores and 5 store closures. Sales in the like-for-like store estate grew by 0.3%.
Statutory profit before tax was £154.5m, which compares to £61.7m in 2015, although last year was distorted by the exceptional costs, largely relating to costs associated with the IPO and the previous financing structure. Adjusted profit before tax was up 19.5% to £161.4m.
Simon Arora, chief executive, said: "B&M's disruptive pricing, unique sourcing model and range discipline has continued to drive our business forward to WIN market share. More people are able to access our stores as a result of our continuing and successful new store programme. We now regularly serve 3.3 million customers on average each week.
"As a result of a record 79 new stores opened in the financial year, we have now passed the milestone of 500 UK stores. In the UK there are many locations where we don't currently trade but would like to and in Germany we are beginning to accelerate our pace of expansion, and we continue to see attractive returns from our new store programme."
PayPoint (PAY), the FTSE 250 payment company, has published its full year results this morning.
Net revenue increased by 0.4% to £123.6m driven by strong growth in retail services and Romania but offset by sluggish results in pre-paid energy due to warmer weather and lower energy prices and continued decline in mobile top-ups. Reported revenues were down 2.7% to £212.6m. Retail services transactions grew by 17.8% to £140m
Adjusted operating profit was up 1.2% to £50.1m, but profit before tax collapsed by 83.6% to £8.2m from £49.6m last year.
Chief executive Dominic Taylor said: "We have made good progress in what has been a challenging year. Our businesses have performed credibly, with growth in the UK being driven primarily through our developing retail services. I am confident that delivery of new products, in particular our next generation terminal and our MultiPay platform, will provide the basis of continuing future growth in payments and services."
Finally, Fevertree Drinks (FEVR) has granted options over 294,688 ordinary shares to its executives under its new long term incentive plan agreed at its AGM on 21 April. The shares are worth just over £2m at Fevertree's current stock price of 702p, with founders Tim Warrillow and Charles Rolls granted options worth £809k each. Vesting conditions are based on the achievement of targets linked to the company's 2018 turnover and EBITDA.
B&M is up 1.2% to 285.6p this morning and PayPoint up 1.3% to 885.5p.
The FTSE 100 has edged up another 0.1% to 6,268.9pts so far this morning.
The supermarkets are amongst the early movers, with Sainsbury's (SBRY) up 1.7% to 267.3p, Tesco (TSCO) up 1.1% to 168.9p and Morrisons (MRW) up 1% to 198p.
Yesterday in the City
There's little doubt what was the City's big story yesterday after Marks & Spencer's (MKS) share price plunged by more than 10% following the announcement of its annual results and new strategic plan.
Though new CEO Steve Rowe's plans to resuscitate its flagging clothing sales and increase the roll-out of Simply Food convenience stores were generally well received, the shares tanked on the warning that executing these plans will eat into M&S future profits. M&S shares ended the day down to 10.2% to 399.4p – almost a third down on where the shares were trading last year.
More generally the City shrugged off the M&S share price collapse, with the FTSE 100 increasing by 0.7% to 6,262.9pts.
Grocery and fmcg stocks on the way up included Majestic Wine (WINE), up 3.8% to 458.5p, Ocado (OCDO), 3.3% up to 266.3p, PZ Cussons (PZC) up 2.2% to 347.8p, and ahead of its annual results this morning Tate & Lyle up 1% to 614p.
Tesco (TSCO) joined M&S on the FTSE fallers board, dropping 2.3% to 167p after strong gains on Tuesday.
Other fallers included Britivic (BVC), down 1.6% to 689p, Cranswick (CWK), down 1.4% to 2,298p and Poundland (PLND), down 1.7% to 171.5p.
Hilton Food Group dropped 0.5% to 589.5p after issuing a trading update yesterday.