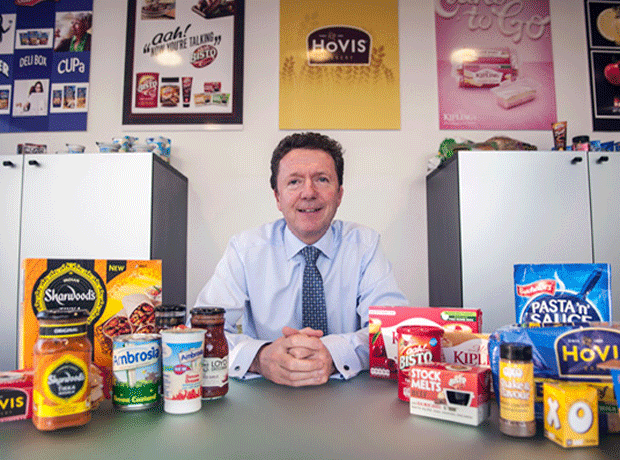 Top story
First quarter sales have fallen 1.6% at Premier Foods (PFD), while branded sales fell 1.4%, amid "challenging" market conditions.
Premier said the lower branded sales figure was partly attributable to the timing of Easter this year, which impacted both the Cake and Flavourings & Seasonings categories. This Easter effect is equivalent to approximately 1.5% of branded sales, meaning branded sales would have otherwise been broadly flat result.
Non-branded sales were 3.1% lower with a strong performance in Sweets Treats offset by sales declines in Grocery.
CEO Gavin Darby said: "We are encouraged by the continued good volume and value response of our brands in those areas where we have focused our investment, although Branded sales in the quarter were impacted by the earlier timing of Easter. While the business environment remains challenging, our expectations for the year, including a significant reduction in net debt, remain unchanged."
Premier said it would continue grow marketing spend "significantly" in this financial year and its full-year earnings expecations remain unchanged despite the "challenging" trading environment.
Morning update
There's a lot to get through today on a busy morning in the City.
First up, Unilever (ULVR) has issued its first half results, with turnover up by 12% to €27bn, including a positive currency impact of 10%. Underlying sales growth was 2.9% up with volume up 1.1% and price up 1.7%. Core operating profit was up 16%, but reported operating profit down 13% to £3.8bn reflecting profits on disposals in 2014. Underlying sales growth in the food division was 1.4% in the first half, with volumes up 1.5%.
CEO Paul Polman said: "The first half demonstrates again the progress we have made in the transformation of Unilever to deliver consistent, competitive, profitable and responsible growth, now in the seventh year.
"The sharpened strategies across each of our four categories and a step-up in our innovation pipeline are increasingly driving our growth and margin expansion in a continued challenging environment. Equally, on the cost side we continue to exceed the objectives set with project Half, enabling us to strengthen the investment behind our brands and to extend into premium segments and new markets. We plan for another year of volume growth ahead of our markets, steady improvement in core operating margin and strong cash flow."
This morning also brings updates and acquisitions from soft drinks companies Britvic (BVIC) and Nichols (NICL).
Britvic Q3 trading update for the twelve weeks to 5 July saw revenues up 1% to £322.3m. This represents a "solid performance in challenging trading conditions", the company said, and compared to tough comparatives last year when Q3 reported revenue grew 5.3%. GB revenue declined 0.8% due to adverse price/mix of 1.2%.
Britvic also announced the acquisition of Brazilian drinks firm Empresa Brasileira de Bebidas e Alimentos SA (Ebba). Ebba is the number one supplier of liquid concentrates and the number two supplier of ready-to-drink nectar drinks in Brazil. The deal gives Ebba an enterprise value of R$580m (£120.8m), with an effective acquisition cost of R$545.4m (equivalent to £113.6m). The acquisition will be partly funded from the proceeds of a placing of new ordinary shares.
Nichols' overall revenues were flat at £54.7m in the first six months of the year to 30 June, while group profit increased by 9% and earnings per share rose by 11.4%. UK sales grew by 2%, which is ahead of the general market growth of -0.1%. Nichols also announced the acquisition of the Feel Good brand. Feel Good is an established range of premium juice drinks containing no added sugar and 100% natural ingredients.The brand is sold in the UK through the retail and on-trade channels, in addition there are export sales to mainland Europe.
This morning also saw a first quarter trading update fromn SABMiller (SAB) for the three months ended 30 June. Group net producer revenue grew by 3% on flat volumes. Good beverage volume growth in Latin America and Africa was offset by declines in Europe in particular, together with Asia Pacific and North America. Soft drinks volumes were up 4% offset by a 1% decline in lager volumes.
CEO Alan Clark said: "Both revenue and volumes grew strongly in Latin America and Africa in the quarter, tempered in particular by a challenging quarter in our key European markets where the trading environment remains difficult and softer volumes in China. We continue to make good progress in our strategy of driving top line growth which is reflected in the growth of revenue per hectolitre across our regions."
Meanwhile, Sainsbury's (SBRY) has issued £250m of 2021-dated convertible bonds for general corporate purposes. The bonds are expected to have a coupon in the range of 2.5-3% per annum.
Finally, Thorntons (THT) has officially requested to be delisted from the London Stock Exchange owing to its forthcoming takeover by Ferrero International. The delisting will take place on 20 August.
The FTSE 100 is on the way back up this morning, rising 0.2% to 6,683.1pts.
Premier Foods has opened 0.6% down at 42.3p, Unilever has jumped 2.2% to 2,921p, while SABMiller has slipped 0.3% to 3,428.5p. After announcing their respective acqusitions Britvic is down 0.4% to 732p and Nichols is up 0.3% to 1,336p.
Yesterday in the City
Concerns over a potential forthcoming interest rate rise by the Bank of England helped suppress share prices yesterday, with the FTSE 100 dropping 1.5% to 6,667.3pts.
Mining stocks were most affected by the share price downturn, but there were also some significant falls in the consumer sector.
British American Tobacco (BATS) was down 1.8% to 3,592.5p, while Imperial Tobacco (IMT) fell 1.7% to 3,280p. SABMiller was also down, dropping 1.8% to 3,439.5p.
Tesco (TSCO) fell 1.2% to 219p, Sainsbury's (SBRY) was down 1.1% to 272.6p, but Morrisons (MRW) dropped just 0.1% to 185.9p and M&S (MKS) was one of the few risers, climbing 0.8% to 535p.
There was some better news outside the FTSE 100, with Tate & Lyle (TATE) up 1.9% to 520.5p. Brewer Marstons (MARS) rose 2% to 158.2p while Mitchells & Butlers (MAB) was one of the strongest risers, up 5.6% to 405.6p.