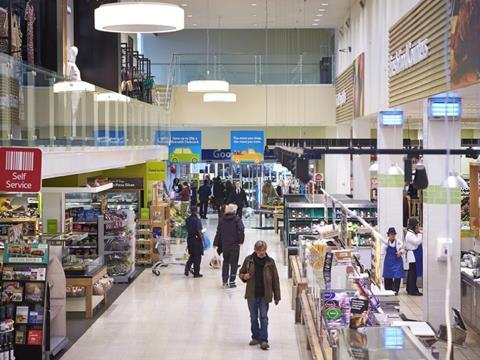 Top story
Stability is finally returning to the struggling UK grocery sector with the number of failing businesses within the UK food supply chain falling for first time in 27 months, according to Begbies Traynor.
The industry is showing the first tentative signs that it has adjusted to today's new low margin environment, the insolvency firm said.
Its latest Red Flag Alert research for the third quarter of 2015, which monitors the financial health of UK companies, showed food retailers experienced their first quarterly decline in 'significant' financial distress in more than two years. The figure fell 5% to 5,002 struggling businesses over the past three months, down from 5,258 in the second quarter.
The last time that UK food retailers saw any improvement in financial distress was during the second quarter of 2013.
"The declining fortunes of the UK food retail industry and its supply chain over the past nine quarters directly mirror the meteoric rise in popularity of the German discounters Aldi and Lidl, whose no frills, low price offering has captured the imagination of British consumers, changing the face of the UK grocery sector for good," Begbies Traynor partner Julie Palmer said.
"While the major supermarkets have taken drastic action to readjust their ailing business models by slashing prices in a bid to compete, the UK's damaged food supply chain remains the biggest loser from the changing food retail environment, with levels of financial distress in this sector nearly tripling in just over two years as a result of intense margin pressure.
"Whilst the UK grocery sector is not out of the woods yet, our latest quarterly findings indicate that it is seeing the first green shoots of recovery."
Morning update
French food group Danone has increased like-for-like sales on the third quarter by 4.6%, beating analyst expectations. A strong performance from the baby food division and a return to positive growth for dairy saw the group confirm its 2015 targets of organic sales growth of between 4% and 5% and a slight rise in trading operating margin. Danone's total revenues jumped 4.2% on a reported basis to €5.6bn. CEO Emmanuel Faber said: "Solid third-quarter organic sales growth of 4.6% confirms our progress towards sustainably anchoring a balanced profitable growth model for Danone. I am fully confident that we have long built unique positions in the best long-term potential food and beverage categories. As we expect to navigate in a persistently volatile world, the priority of the executive committee and of all Danone teams will remain to deliver profitable growth while strengthening the resilience of our business model."
German retailing giant Metro Group increased its like-for-like sales in its 2014-15 financial year by 1.5%. The company said in a pre-close trading statement that it meant it had ahieved its full-year sales target. Reported sales of €59.2bn fell 1.2% short of the previous year's figure, however, as a result of negative currency and portfolio effects. "Financial year 2014/15 was a turning point for Metro Group," chairman Olaf Koch said. "We managed to make our core business dynamic again and strengthened our balance sheet even further. We reached our full-year like-for-like sales target."
Bargain Booze owner Conviviality (CVR) has appointed Investec Bank as the company's nominated adviser (NOMAD) with immediate effect. Investec was appointed as joint corporate broker on 8 June 2015 and will work alongside Zeus Capital. CEO Diana Hunter said: "We look forward to working alongside both Investec and Zeus as we continue to build on the success of the Matthew Clark acquisition and drive the enlarged group forward."
City diary
A fairly quiet looking week for grocery retail this week, with French food group Danone and German retailer Metro kicking things off with their Q3 and pre-close trading updates this morning (see above).
Household and personal care goods group McBride (MCB) hosts its AGM on Tuesday, with Premier Inn and Costa Coffee owner Whitbread also putting out its half-year figures. Outside the stock exchange, the latest Kantar and Nielsen grocery market share data will also be released tomorrow.
Durex and Dettol manufacturer Reckitt Benckiser (RB) takes up Wednesday morning with a trading update.
And the Office for National Statistics (ONS) will release the latest retail sales figures for September on Thursday.
Outside of grocery, the general retail markets looks a little busier with ASOS finals on Tuesday, Home Retail interims on Wednesday and Debenhams full-year results on Thursday, along with the Mothercare Q2 statement.