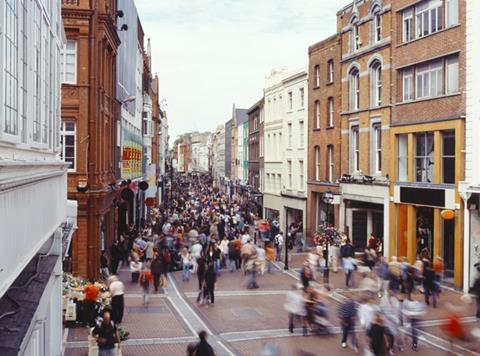 Top story
LDC's annual report on retail trends in 2016 found that the equivalent of five shops a day closed on Britain's high streets last year with a net loss of 1,650 shop during the period.
The number of shops closing reached a peak at the time of the EU referendum in mid 2016, but the final quarter of the year saw more shops opening and closing and the positive trend has continued into 2017.
The number of retail and leisure closures have been remarkably stable at about 47,500 each year since 2012 in Great Britain – 130 every day (including Sundays). Openings have varied more, but in the past year averaged 125 per day and amount to 45,700 in the year.
LDC said there was a mid-year slump in both measures, at its deepest in June, when openings were significantly lower than closures. In a year of surprises, particularly political shocks, the autumn saw a bounce back in both openings and closures and the former overtake the latter
England has the lowest national vacancy rate at 11%, followed by Scotland at 11.9% and Wales at 15.2%. Of the three only Wales is not showing consistent improvement.
Of the English regions the North West has the highest vacancy rate at 15.3% whilst London has the lowest at 7.4%
Retail Parks have gained more occupied units net (+314) than any other type of location, whilst stand-alone/fringe location retail saw the greatest net loss of stores at -1,603
Shopping Centres continue to improve most in vacancy (14.8% to 13.2%) followed by Retail Parks (6.6% to 5.7%) and Town Centres (11.7% to 11.2%).
Food & beverage chains and independent leisure operators have driven significant growth across the year, gaining 816 outlets net, with coffee shops topping the multiples' table and personal services such as Barbers heading the independents' league with 482 net openings.
The number of retail and leisure closures have been remarkably stable at about 47,500 each year since 2012 in Great Britain – 130 every day (including Sundays). Openings have varied more, but in the past year averaged 125 per day and amount to 45,700 in the year.
Additionally, LDC analysis of the new business rates valuations per square metre show that shocks reported around the "cliff edge" small business rate relief threshold of £12,000 were real. LDC said twice as many small shops were revalued from below to above the threshold as from above to below. Shops under 3,000 square feet were also valued on average at 30% more per square foot or metre than larger stores.
It added that Greater London was not the only region to see retail valuations rise, so did the South East and East Midlands. It was also one of 18 counties that saw a rise. On a town by town basis London was not even in the top 30 of the list – Southwold, with its 170% increase was, while Market Harborough in the East Midlands has increases in RV of more than 50% in 199 retail premises matched to the LDC database.
Morning update
The major grocery news over the weekend surrounded speculation on a £6bn asset sell-off from Unilever (ULVR), reported to include its problematic spreads division. See this morning's Media Bites for more.
Also this morning brings the publication of the BRC-Springboard footfall and vacancies monitor for February 2017.
In the four weeks to 25 February 2017 footfall was 1% down on a year ago, which is lower than the three-month average of 0.8%, but slightly above the twelve-month average of -1.1%.
High street footfall rose 0.1% in February on the previous year's rate of -2.9%. Footfall in retail park locations fell 1.6% in February, compared to a 2.5% increase in February 2016, while footfall in Shopping Centres fell 2.6% in February after falling -0.6% equivalent rate in the same month of 2016.
BRC chief executive Helen Dickinson commented: "Visits to retail destinations fell by 1% in February, which marks little change to what has been a familiar story over the past few years. Although, given the disappointing in-store sales so far in 2017, the decline in footfall last month is unsurprising.
"The modest relief fund for business rates announced in the Budget will hopefully go some way to helping those shops hardest hit, albeit only temporarily. It won't however ease the burden for the majority of retailers who will continue to pay nearly a half of rental values in property tax. A business tax system that continues to curtail investment in bricks and mortar is at odds with an industry that desperately wants to invest in order to maintain local jobs and build more experience and engagement with shoppers to attract them into their stores."
Springboard marketing and insights director Diane Wehrle added: "Increasing uncertainty arising from the imminent triggering of Article 50 has certainly started to have an impact on purchasing behaviour, the types of destinations shoppers are visiting and how they spend their money. High streets are clearly benefiting as the destination of choice for dining and leisure, whilst shopping centres continue to underperform as they struggle with a weak entertainment and leisure offer, coupled with increasing caution amongst consumers around retail spend."
Speciality bakery firm Finsbury Food Group (FIF) saw an increase in profits on flat revenues in the first half of its financial year to 31 December.
Group sales remained flat at £156.6m, but operating profit rose 4% to £8.3m during the year and profit before tax for the period was up 5.3% to £7.9m.
During the first half of its year Finsbury opened a new artisan bread facility, baking for retail and foodservice customers. It continued its investment in whole cake capacity and capability, while six out of eight sites are now supplying into the foodservice channel and providing a broader speciality bakery range.
CEO John Duffy commented: "The latest set of results reflect a business that has transformed into a diverse, multi-channel speciality bakery group.
"We have delivered a strong first half performance and this demonstrates the benefits of the group's investment and strategy implemented over prior years and reinforces our approach to innovation and diversification across our channels, customers and products. Our balance sheet remains solid, positioning the business well for future investment and the resulting benefits.
"Well documented market challenges persist, however the group has prepared well and is continuing to work hard to mitigate against these. Furthermore, the group's track record of exceptional growth and diversification over the prior years illustrates that it has the right strategy in place to continue to deliver growth and improved shareholder value over the coming years."
Chinese seafood company Aquatic Foods Group (AFG) has provided a trading update for the full year ended 31 December 2016.
Sales decreased by 5.2% to RMB927.8m (£110.5m) compared to the previous year, but the fourth quarter showed revenue improvement of 31.7%, 38.5% and 25.3% compared with Q1, Q2 and Q3 2016 respectively reflecting in part the seasonal strength of the quarter.
Sales volume for the year ended 31 December 2016 increased marginally by 1.3% compared with 2015, with the lower average prices obtained in 2016 being reflected in the headline revenue.
Gross margin which had started to decline from August 2015 has stabilised at around 24.2% for year ended 31 December 2016, down from 30.5% in the previous year. Unaudited gross profit for the year ended 31 December 2016 was RMB224.6m (£26.7m), a decrease of 19.9% compared with of the same period in 2015.
On the markets this morning, the FTSE 100 has opened the week 0.2% down at 7,412.4pts
Finsbury Food Group has eased back 0.7% to 112.2p, while Aquatic Foods Group is up 3.5% to 15p.
Early movers include Devro (DVO), up 2.2% to 196.2p, SSP Group (SSPG), up 2% to 416.2p, Associated British Foods (ABF), up 1.8% to 2,663p and PayPoint (PAY) up 1.7% to 993.3p.
Fallers include Stock Spirits (STCK), down 3.2% to 190.75p, Applegreen (APGN), down 2.8% to 407p, Real Good Food (RGD), down 2.5% to 30.2p and Cranswick (CWK), down 1.9% to 2,442p.
This week in the City
Tomorrow brings full-year results from fast-growing premium drinks mixer supplier Fever-Tree (FEVR), which has seen its share price grow by another 125% over the past year.
Thursday brings annual results from sports nutrition specialists Science in Sport (SIS), while in wider retail high street bellwether Next (NXT) has its annual results on the same day.
In the US, General Mills (GIS) will report its third quarter earnings tomorrow.
In economic news, the CBI industrial trends surveys are out this week, starting today, while UK ONS inflation figures will be published for the month tomorrow. Thursday brings the official ONS retail sales figures for February.