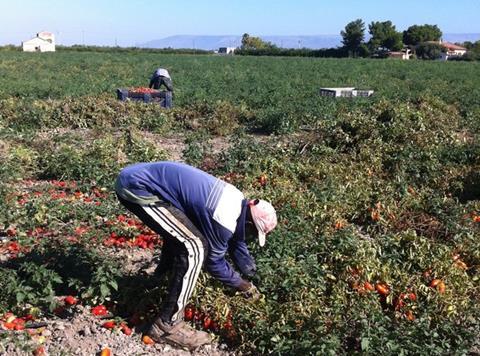 Top story
Leaked Home Office documents outlining a strict immigration policy to force all but the most highly skilled EU migrants to leave the UK after Brexit show a "deep lack of understanding" of the important contribution European workers make across the food chain, the industry has warned.
The 82-page paper leaked to the press sets out how the government intends to manage its borders after a formal exit from Europe in less than two years, with a major refocus to put British workers first.
"Put plainly, this means that, to be considered valuable to the country as a whole, immigration should benefit not just the migrants themselves but also make existing residents better off," the paper, obtained by The Guardian, says.
The document proposes measures to drive down the number of lower-skilled EU migrants with a two-tier work visa system that would only allow them residency for a maximum of two years. Workers with higher skills would be able to obtain work permits for a longer period of three to five years under the plans drawn up by the Home Office for Theresa May.
The food industry would be "alarmed" by the draft document, which is marked as 'sensitive' and dated 7 August 2017, FDF director general Ian Wright said this morning.
"Food and drink manufacturing, Britain's largest manufacturing sector, will be alarmed by the proposals contained in the document published by The Guardian.
"If this does represent the government's thinking it shows a deep lack of understanding of the vital contribution that EU migrant workers make – at all skill levels – across the food chain. It also undermines the role and creation of the Migration Advisory Committee (MAC).
"We will continue to work with government and MAC to ensure a practical and evidence based way to proceed."
The Home Office plans also detail a phased introduction to a new immigration system that ends the right to settle in Britain for most European migrants and places tough new restrictions on their rights to bring in family members.
Showing a passport will also be mandatory for all EU nationals wanting to enter the country.
Morning update
It is another extremely quiet day on the markets for food and drink with no stock exchange updates to speak of.
The FTSE 100 has opened 0.3% down to 7,349.06 points as it continues its slide this week as tensions in North Korea continues to weigh on the minds of investors.
Early risers include Associated British Foods (ABF), British American Tobacco (BAT), Tesco (TSCO), up 0.4% to 3,302p, up 0.4% to 4,795p and up 0.3% to 185.3p respectively.
Fallers in the early going so far are TATE & Lyle, down 0.7% to 662p, Greggs (GRG), down 0.3% to 1,199p and PZ Cussons (PZC), down 0.3% to 342p.
Yesterday in the City
Yet another quiet day on the markets as the City – at least as far as fmcg news goes – is yet to get back into full swing as the summer holidays end.
Reckitt Benckiser (RB) lost 2.5% of its value – down to 7,106p – as it emerged that four out of 10 of the executive committee members are leaving the company, which is experiencing its lowest sales growth in its history.
SSP Group (SSPG) fell 3.7% to 535p after gains in recent days of trading, with other fallers including Tate & Lyle (TATE), down 1.2% to 666p, Greencore (GNC), down 1% to 206p, and Unilever (ULVR), down 0.8% to 4,466p.
At the opposite end of the market, Ocado (OCDO) rose 1.4% to 305.6p, Marks & Spencer (MKS) was up 1% to 324.1p, WH Smith (SMWH) climbed 1% to 1,876p and Sainsbury's (SBRY) registered a 1% gain to 236.3p.
Tension in Korea continued to put downward pressure on the FTSE 100, which was down another 0.5% to 7,372.92 points.