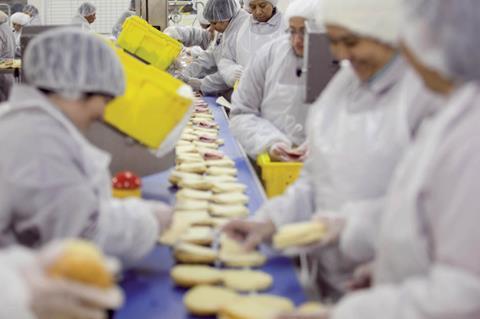 Top story
Greencore (GNC) has suspended its financial guidance and outlook due to the ongoing uncertainty surrounding the duration and impact of the coronavirus outbreak on its business.
The sandwich manufacturer said following the implementation of a UK-wide lockdown last week, consumer demand and shopper behaviour changed rapidly resulting in a "marked reduction" in demand for its food-to-go options in retail.
This was partially offset by sustained volume growth in the company's other convenience categories, as Greencore cooperates with government agencies - including the NHS and local communities - to provide food to customers and front-line staff during the pandemic.
"Greencore is playing a systemically important role in a reset food industry that has become a critical component of the UK infrastructure through this pandemic," the company said.
It added that as its staff had been deigned as 'key workers', a "powerful sense of commitment, skill, spirit, and purpose" emerged across the workforce.
To support its staff, Greencore implemented an "extensive" set of social distancing initiatives across its manufacturing and distribution network.
Furthermore, to protect profitability the company was "tightening" its food-to-go production network by furloughing impacted colleagues, using the government's Coronavirus Job Retention Scheme. The board and executive directors agreed a three-month 30% pay cut, while the wider leadership team a 20% reduction.
A significant portion of capital expenditure has been deferred and the interim dividend will not be paid in order to protect liquidity and cashflow. Currently, Greencore has access to £265m of cash and undrawn committed bank facilities.
"While the duration and impact of this pandemic remains uncertain, all of our stakeholders are continuing to work together to protect the business," Greencore added.
"The board is ensuring that Greencore remains a purposeful and hugely relevant business, feeding the UK right through this period, and importantly that it is also equipped with the team, strategy, reputation and balance sheet to accelerate forward when the pandemic passes."
Greencore shares opened down 5.3% to 162p.
Morning update
British Honey Co (BHC) has signed an agreement with Florida-based List Distillery to gain access to the US market.
Under the agreement, BHC will supply List with high concentrate London Dry Gin, which will be bottled and marketed by List under the Keepr's brand in the US, gaining access to an "extensive" distribution network covering over 12 states across the US - one of BHC's identified "key markets" alongside China.
The two companies already have an established trading relationship, with BHC bottling, selling and distributing List's bourbon, American whiskey and rum in the UK under the Keepr's brand.
The two businesses have also been working together to develop alcohol sanitiser to fight the spread of the coronavirus and are now supplying medical services in both Florida and the UK, with all spare production capacity turned over to manufacturing sanitiser.
Due to the current pandemic, BHC had reviewed its operational focus and determined it should concentrate on market-ready or near market-ready alcoholic beverages and sanitiser.
The development of untested alcoholic products is "not an operational priority at the present time", it added, and has therefore served notice on Distil to terminate its joint venture agreement to produce a new botanical vodka, which will be restarted in the future.
National Milk Records, a supplier of dairy and livestock information services, has reassured its service will not be interrupted by the coronavirus outbreak.
"The continuous nature of milk supply is such that it largely cannot be dialled up and down to adjust for issues such as COVID-19, however the switch of the public's dairy product buying pattern from outlets such as coffee shops and restaurants to supermarkets is naturally putting strain on the milk processing community,"the company explained.
"Our core service, payment testing of bulk milk samples, is anticipated to be largely uninterrupted and we have extensive contingency plans to minimise the effect of potential staff shortages in the laboratories."
However, the majority of milk recording services and associated disease testing activities, accounting for 60% of the company's turnover, will be impacted by the effects of social distancing. The business however, is promoting its 'self-serve' offering by which the farmer takes the samples themselves.
This impact of the switch on earnings was "difficult to quantify" due to the uncertainty as to the "depth and duration" of the outbreak, NMR added.
The FTSE 100 started the week in the red, down 1.4% to 5,435.76pts.
Fallers included Diageo (DGE) down 6.4% at 2,512.50p, Associated British Foods (ABF) down 5.5% at 1,805.50p, Coca Cola HBC (CCH) down 6.8% at 1,628p and B&M European (BME) down 6.5% at 268.40p.
Among the few risers, Naked Wines (WINE) opened up 4% at 260p, C&C Group (CCR) up 4.4% at 186p, Sainsbury's (SBRY) up 2.1% at 210p and Morrisons (MRW) up 0.3% at 180.15p.
This week in the City
This week there are no announcements planned as coronavirus outbreak disrupted normal reporting schedules, with the FCA allowing listed companies an extra two months to publish their results.
However, expects unscheduled announcements with companies updating of the impact of the pandemic on trading performance and outlook.