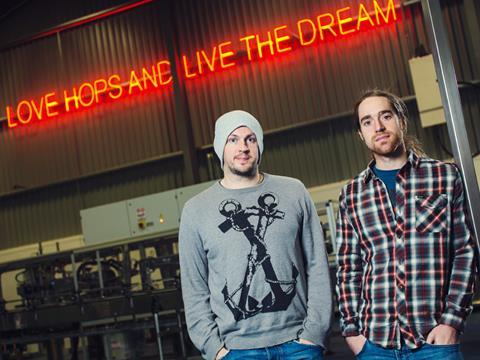 Top story
The UK's privately owned fmcg suppliers have found it difficult to maintain the monster rates of sales growth of previous years, the new Grocer Fast 50 reveals today. But the same business still leads the way.
The average two-year compound annual growth rate (CAGR) in this year's table came in at 22.3%, down more than a whopping 8 percentage points from 30.6% in 2014. The comparative was tough, though, given it was the fastest growth level recorded in the six years of the Fast 50 so far.
Half the businesses in this year's list would not have even made the table in 2014, needing a CAGR of just 14.3% to qualify, compared with 20.2% 12 months ago.
Maverick brewer BrewDog has topped the Fast 50 for the second year in a row. It registered a two-year compound annual growth rate of 66.7% as sales shot up to £30m in the year to 31 December 2014.
In the story on thegrocer.co.uk we speak to CEO and co-founder James Watt to find how the brand has managed to keep up such lightening growth.
Simon Peacock from Catalyst Corporate Finance, which helps us crunch the data, also offers his take on the general themes of the year and why growth is harder to come by than in previous editions.
As well as the story, the Fast 50 feature will be available online later this morning with profiles of all 50 businesses giving insights into how they have found growth where others have struggled.
Morning update
Consumer confidence in the UK has slumped for a third consecutive month in November as a result of worries over wider economic, political and social events. GfK's long-running consumer confidence index decreased one point to +1 last month. It follows a point decline in October and another three in September from +7. Three of the measures used to calculate the index registered falls this month, with one increased and the other unchanged.
"From summer's 15-year high, consumer confidence in the UK has continued to slide to +1 this month," said Joe Staton, head of market dynamics at GfK. "Overall, despite the good news agenda of rock-bottom inflation, falling fuel prices and higher wage growth boosting spending power, confidence appears to be depressed by a combination of wider economic, political and social events.
"However, one area that continues to hold up is our expectation for our personal financial situation for the next 12 months. Shoppers also continue to tell us that now is the right time to make a major purchase – such as furniture or electrical goods – with this indicator standing nearly 10 points higher than in November last year."
Strong growth at Waitrose in recent weeks has slowed to 2.5% (excluding fuel) in the week ending 21 November to £131.5m. Marketing director Rupert Thomas said a colder turn in the weather and a range of "compelling promotions" saw sales of winter classics rise. Warming meals were high up on shopping lists as sales of stuffing and Yorkshire puddings were up 13% and soup sales rose by 6%. Wines, beers and spirits also had a "particularly" strong week as customers stocked up ahead of Christmas, Thomas added. Sales were helped as the supermarket knocked 10% off many wines, beers and spirits promotion for its myWaitrose customers.
Elsewhere we feature PayPoint chief executive Dominic Taylor publicly admitting for the first time that the payment technologies company fell short in its communication of changes to its commission structure earlier this year. Read the story here.
Forecourt operator MRH has been told by the Competition and Markets Authority that it must sell two of the 78 sites acquired from Esso earlier this year if it wants to avoid a full merger investigation. Read the full story here.
Yesterday in the City
Shares in travel food specialist SSP Group (SSPG) rose 4.7% to 310.4p after it announced like-for-like sales grew 3.7% to £1.8bn and operating profits climbed 10.1% to £97.4m.
McColl's Retail Group (MCLS) managed a 1.1% bump to 141.5p with news that CEO James Lancaster intends to step down from his role to become non-exec chairman.
Finsbury Food Group (FIF) continued to make gains again with the stock up 6% to 115p – just shy of the 117p record set back in June 2007. The bakery group is up 10.6% this week after it revealed sales had soared 78.1% to £102m in the first four months of its financial year.
The three listed supermarkets continued to make welcome gains as well, with Sainsbury's (SBRY) up 2.3% to 258.1p, Morrisons (MRW) up 1.8% to 155.5p and Tesco (TSCO) rising 0.9% to 170p.
The FTSE 100 also had a good day, climbing 0.9% to 6,393.1 points.
Of yesterday's fallers, Poundland (PLND) continued to slump, down 2% to 206.3p, Fever-Tree (FEVR) was down 0.5% to 575p and C&C Group (CCR) fell 1.3% to €3.65.